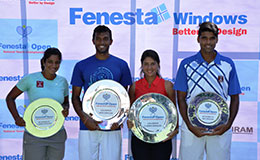 New Delhi: Sriram Balaji kept his tryst with destiny as he used all his will, willpower and rich array of strokes to dethrone Vishnu Vardhan and crown himself Men's champion in the Fenesta Open National Tennis championship.

On a warm Saturday, in front of a good gathering, the top seed who came here to qualify for the main draw, showed he was the best player in the field as he beat Vishnu Vardhan 7-5, 6-3 in the final.

Earlier, Prerna Bhambri showed that to beat her on these hard courts was next to impossible as she whacked unseeded Sai Samhitha Chamarthi 6-0, 6-1 in a lopsided contest.
The toast of the week was undoubtedly Sriram Balaji, as the ATP journeyman came to New Delhi with single minded devotion to become national champion. Winning three rounds in the qualifying stage gave him the required momentum to peak every day.

And once into the finale, the man from Tamil Nadu who trains in Germany showed he has the shots in his game and the required mental edge to win a big battle. It was a contest between two players who know each other well on and off the court.

For those well versed with the nuances of good tennis on hard courts, the two treated the audience to some scintillating tennis. Sriram versus Vishnu had the right mix worthy of a final. But in the overall analysis if Sriram Balaji could pull it off handsomely, it had to do with good temperament and playing big points with aplomb.

Sriram's strong serve was definitely worth raving about as on the relatively slower court he was still generating his own pace.

The turning point came in game 12 when Vishnu choked under pressure and from then on it was Sriram Balaji who held sway. The win enabled Sriram to win the wild card for the Delhi Open in 2016.

The Women's final was woefully one-sided. The essence of a good final is being competitive and that was precluded as Prerna played far superior and did not give her opponents a single free point.

The Boys Under-18 events turned out to be a bit different as top seed Aryan Goveas, coming back from an injury, lost a gut wrencher to B.Nikshep. Nikshep won 6-3, 2-6, 7-5 and showed that when the match is down to the wire he was still fresh and sharper.

The Girls' Under-18 title was clinched by Zeel Desai as she played an up and down game to beat Sathwika Sama 3-6, 6-3, 7-5.

The Boys and Girls Under-14 and Under-16 main draws will be held next week.

Final Results:

Mens' Singles:

Sriram Balaji bt Vishnu Vardhan 7-5, 6-3

Womens' Singles:

Prerna Bhambri bt Samitha Sai Chamarthi 6-0,6-1

Boys Under 18 Singles:

B.R Nikshep bt Aryan Goveas 6-3,2-6,7-5

Girls Under 18 Singles:

Zeel Desai bt Sathwika Sama 3-6,6-3,7-5