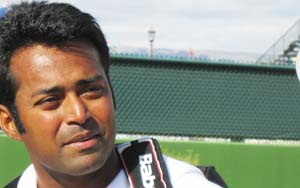 London: India's Leander Paes along with his Canadian partner Daniel Nestor prevailed over Yen-Hsun Lu and Teymuraz Gabashvili to move into the pre-quarterfinals of men's doubles event at Wimbledon, while Sania Mirza and her Soares beat Janette Husarova and Andre Begemann to enter the third round in the mixed doubles event in London on Saturday.

Indo-Canadian pair of Paes and Nestor had fight hard against Yen-Hsun and Teymuraz, but managed to win the match a 5-7 7-6 (3) 7-6 (4) 7-5 victory.

Meanwhile, in the mixed doubles, the second-seeded pair of Sania and Soares won easily against Janette Husarova and Andre Begemann 6-2, 6-4 in the second round.