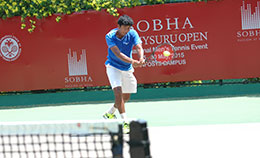 MYSURU (Karnataka): Four off the five seeded players who took to the Infosys courts on Tuesday cruised through to the last 16 but seventh seed Vinayak Sharma Kaza made heavy weather of his first round match, squandering three match points in the second set before prevailing in the Sobha ITF Mysuru Open.

Indian Davis Cupper and top seed Ramkumar Ramnathan, second seed Karunuday Singh, Olympian and former Davis Cupper Vishnu Vardhan and Ranjeet Virali-Murugesan ensured they spent as little time as possible on court, disposing off their respective opponents in straight sets.

Another impressive winner was Pune boy Anvit Bendre who ousted lucky loser Sandeep Choudhary in straight sets, the latter showing some determination in the second set which went into the tie-breaker.

Kaza claimed the first set 6-4 against 1288 ranked Ronit Singh Bist. The players held serve in the second set and the Andhra player raced away to a 6-3 lead in the tie breaker.

However unforced errors, saw Bist leveling at 6 and 7 before winning the second set. That seemed to have knocked out the rhythm off Kaza who again was taken to the tie-breaker. But the seventh seed had shrugged off the indifference in form by then to clinch the deciding tie-breaker at 3.

Third seeds out in doubles

In doubles play, last week's ITF Mandya Open winners, Anvit Bendre and Akash Wagh had to eat humble pie, losing to the unseeded pair of Sidarth Gour and Sidarth Rawat in the very first round.

Top seeds Ramkumar Ramnathan and Ranjeet Virali-Murugesan along with second seeds Mohit Mayur Jayaprakash and Vinayak Sharma Kaza and the pair of Jayesh Pungliya and Nitin Kumar Sinha advanced into the last eight too.

Results: (Prefix denotes seeding):

Singles (1st round): (All Indians): (7) Vinayak Sharma Kaza bt Ronit Singh Bist 6-4, 6-7 (6-7),7-6 (3); Anvit Bendre bt Sandeep Choudhary 6-1, 7-6 (7), (2) Karunuday Singh bt Akash Wagh 6-2, 6-1; (3)Ranjeet Virali-Murugesan bt Chandril Sood 6-3, 6-4; (8) Vishnu Vardhan bt Jayesh Pungliya 6-3, 6-3; (1) Ramkumar Ramnathan bt Aitya Deswal 6-3, 6-4; Lakshit Sood bt Aditya Tewari 6-3, 6-3.

Doubles: Bhavesh Gour/Sidarth Rawat (Ind) bt (3) Anvit Bendre/Akash Bendre (Ind) 6-3, 7-5; Jui-Chen Hung (Tpe)/Sasi Kumar Mukund (Ind) bt Haadin Bava/Shahbaaz Khan 7-5, 3-6, 10-7; (2) Mohit Mayur/Vinayak Sharma (Ind) bt S.D Prajwal Dev/Suraj Probodh 6-2, 7-6 (7); Jayesh Pungliya/Nitin Kumar Sinha (Ind) bt Sahil Gaware/Kunal Vazirani 6-4, 7-5; (1) Ramkumar Ramnathan/Ranjeet Virali-Murugesan (Ind) bt Shotaro Goto/Kazuma Kawachi (Jpn) 6-3, 7-6 (4).