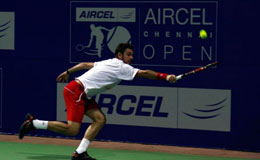 Chennai: World No. 4 Stan Wawrinka will be visiting Chennai to participate in the Aircel Chennai Open for the seventh straight year. Without a doubt, the tournament has become the Swissman's favourite season opener. It is one where he has earned numerous victories in style and wowed thousands of fans over the years. "I like Chennai very much. The atmosphere is always great and the fans are amazing, that's why I keep coming back. The crowd makes that stadium go wild! The tournament was a great start to an amazing year in 2014 and I hope that it will be the same in the New Year," says Wawrinka.

The 20th edition of the Aircel Chennai Open, India premier and South Asia's only ATP World Tour tennis event, is scheduled to be held at Chennai's SDAT Stadium from January 5th to 11th 2015 with Stan at the heart of all the action. 2014 has been an extraordinary year for the 29-year-old who has grown from strength to strength. "I have had a few great wins, starting from the ones against Djokovic, Berdych and Nadal in Melbourne as well as beating Roger in the final in Monte-Carlo. If I have to pick one match it's probably the one against Novak in Australia," he says, talking about his favourite encounter of the year.

Stan captured his first Grand Slam championship title with a stunning four-set victory over top seed Rafael Nadal in the 2014 Australian Open final. Remembering the win, he says, "I knew I had to fight a lot since Rafa is probably the biggest fighter out there and such a great competitor. I wanted to impose my game, play strong right from the beginning." Clearly, the victory means a lot to him. "The Big 4 are so good and I know they are a still at least a step ahead of the rest. But I also know that on a good day, when I play my best tennis I have a chance to beat them," he says assertively.

Early in the year, Stan reached a career high ranking of World No. 3 and became the No. 1 Swiss for the first time. "I reached that ranking thanks to winning not only the Australian Open but also my first Masters 1000, which was an important step." The Masters 1000 victory in Monte Carlo is significant especially because it was against good friend Roger Federer. "I saw how happy he was for me, which is something you don't experience very often. It's always tough to play against Roger. He's so good and you need to play your best and stay focused to have a chance against him", explains Stan. Roger Federer was already on tour for a while when Stan arrived on the scene and the six-footer thinks it was great to spend time with Federer and see how he works, getting his advice. "He's an unbelievable athlete and a great person. Winning the Davis Cup with him and the team has been one of the greatest moments of my career," he adds with pride.

Later in 2014, the Lausanne native also helped Switzerland reach the Davis Cup final for the first time since 1992. "I've been fighting for this for so many years. Helping Switzerland win this trophy for the first time is like a dream come true."

Talking about defeats, like the one against Guillermo Garcia-Lopez in the French Open, Stan is open about the fact that at some point the Spaniard started playing much better and was a very strong opponent. In the US Open, he reached the quarters but lost to World No. 5 Kei Nishikori, who according to Stan was the better player. "I was very disappointed since I had my chances. Kei is an amazing player, a hard worker and a great athlete."

Wawrinka ensures he discusses each match with coach Magnus Norman, analyses it, and looks at the positive stuff behind it. He believes Norman has a great vision of the game. "We work a lot on the mental aspect, have many discussions. And as a former top player he has a lot of experience at the highest level," explains Stan, who has been appreciated for his skill and talent by many greats including Pete Sampras, who happens to be one of his favourite players.

His fitness coach Pierre Paganini has also been an important member of the team for many years. Fitness and vigour is critical to Stan and something about which he is passionate. "As far as fitness is concerned, you have to enjoy it, do good exercises and integrate them into your tennis practice. The preparation for the season is as crucial as doing good blocks when switching from one surface to another," he says.

From his early days, he has been known to be a hard worker who practices regardless of the weather. "I was never afraid of getting up early and practice for many hours. I often go to practice very early during winter." As someone who loves to drive, he steps into his favourite car, the Subaru Outback, especially when there is snow in Switzerland. "I never have to be scared on the frozen streets or even in a snowstorm," he says taking about his car.

Going into 2015, Stan does not have specific goals other than being consistent and continuing to play well and win more titles at all levels. He is still waiting for his first ATP 500 title and wants to do well at the Masters 1000s again as well as the Slams.

Stan is looking forward to being back in India and enjoying his favourite chicken tikka masala, which he eats almost every day when in Chennai. "I enjoy Indian cuisine a lot. It's delicious," he exclaims, relaxing with some U2 and Guns N' Roses, and getting ready for the new season.