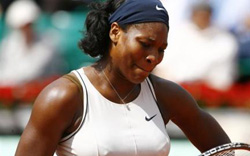 Singapore: DBS Singapore Slammers notched up their first win in the league with a 24-23 victory over current leaders, the Micromax Indian Aces. Coming into the match winless, the Slammers faced the daunting task of playing the unbeaten Aces.
With pressure mounting and fans itching for a win, the Slammers delivered in style, delighting fans with a night of phenomenal shot-making and world-class tennis, with Berdych winning the first Super Shootout of the tournament.
In recognition of a fellow sportsman, Lleyton Hewitt and Nick Kyrgios dedicated their win to Australian cricketer Phllip Hughes, whose funeral was held in Australia today.
· World No. 1 Serena Williams overcame an early onslaught from Serbian Ana Ivanovic to give the DBS Singapore Slammers a 6-4 opening-set win in a tightly contested battle
· The lead changed hands in the second set as mixed doubles pair Rohan Bopanna and Sania Mirza proved too strong for Williams and Berdych taking the set 6-3
· Unbeaten player coach, Fabrice Santoro wove his magic once again, beating a frustrated Andre Agassi 6-2, extending the Aces' overall lead to 16 – 11
· Tomas Berdych found his momentum and pulled the Slammers back to within touching distance (17-18) with a 6-2 triumph over crowd favourite, Gael Monfils
· Australian duo Nick Kyrgios and Lleyton Hewitt showed a good mix of youth and experience as they combined to pull the Slammers, levelling the score at 23 all, forcing a Super Shootout
· In a repeat of the Men's Singles match, Berdych and Monfils stepped up to play the 7-min tie-breaker, where the calm and collected Berdych held on to give the DBS Singapore Slammers their first win of the league
What the Players said:
Serena Williams
"We're just trying so hard, we're here for the Singapore Slammers, we're doing the best that we can, and we just needed to get off to a good beginning."
"Most of all we're having a lot of fun, Ana played really well, we've just enjoyed ourselves, and it's a wonderful opportunity for the fans to come out and see all the great players and this has just been really amazing."
Tomas Berdych
"I'm finding my rhythm on this slower court and, that's it! We're all getting used to it and it's only going to get better and better."
"Great, really there is no better feeling than that, you know really to share the win and the happiness with the guys, there is nothing better than that. You can see everything is possible in this game, I hope you like it, we do, and we have the first win."
"I was ready for everything actually, we had a talk with Josh, we had a plan, it was the right time to win."
Lleyton Hewitt
"There's a lot of people hurting back in Australia today with the funeral of a good friend, Phillip Hughes. Nick and I want to dedicate this win tonight to him."
"The Singapore Slammers have been fired up all week and were desperate to get a win here tonight."
"We've had a great team atmosphere for the last week, we've all come together, it's been really good team bonding, and to tell you the truth, it really helped us get over the line tonight, we were fighting for each other out there."
"That was the best part, we're obviously out there playing for our fans tonight which was great, we dissapointed last night. We sat down, and figured out our best plan for attack tonight, and we're pretty much spot on with the players that we put in. "
"It was fantastic for us to go out there and play with each other, we had the same kind of energy and it was fun."
MATCH SCORES
SCORE (GAMES)

DBS SINGAPORE SLAMMERS

MICROMAX INDIAN ACES

WOMEN'S SINGLES

WILLIAMS

6

4

IVANOVIC

MIXED DOUBLES

SOARES / WILLIAMS

3

6

BOPANNA/ MIRZA

LEGEND'S SINGLES

AGASSI

2

6

SANTORO

MEN'S SINGLES

BERDYCH

6

2

MONFILS

MIXED DOUBLES

HEWITT / KYRGIOS

6

5

BOPANNA / MONFILS

SUPER SHOOTOUT

BERDYCH

1

0

MONFILS

TOTAL SCORE

DBS SINGAPORE SLAMMERS

24

23

MICROMAX INDIAN ACES