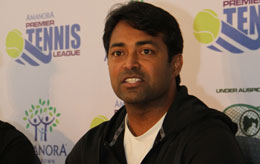 Pune: Multi Grand Slam doubles title winner Leander Paes expounded the necessity of having leagues in different sporting disciplines to promote both the players and the sports itself.

Lauding the efforts put in by various people in putting together such leagues, Paes specially singled out the Amanora Premier Tennis League (PTL) as an ideal example for providing platform for only Indian players to play, learn and earn from the sport they live for.

"What PTL has done is fantastic. It has provided one platform for the cream of Indian tennis players to come together and play as a team," said Paes during a media interaction at the Deccan Gymkhana here on Tuesday.

Paes, who will be playing an exhibition mixed doubles match against Oksana Kalashnikova on Wednesday during the PTL final, said that bringing so many future Davis Cup players together is itself an achievement for the PTL.

"I saw a few matches being played on Deccan Gymkhana courts. There is Saketh (Myneni) playing. There is Jeevan (Neduncheziyan) and Sanam (Singh). They all will be part of the Davis Cup team in the near future and to give them such a platform is a brilliant idea," opined Paes.

Asked about the sustainability of the tennis leagues given that India is playing host to three different leagues—the Champions Tennis League by Vijay Amritraj, the International Tennis Premier League by Mahesh Bhupathi and the PTL here—Paes said there is a chance for each leagues of stay on.

"The sustainability of the leagues will depend on how they are received by the fans and the franchisee owners. The fans needs to enjoy what they watch and the owners needs to get returns, tangible or otherwise," said Paes.

At 41, Paes announced his men's doubles partnership with Raven Klassen of South Africa, this 99th partner in his 28-year tennis career.

"Klassen and me will be starting the partnership from the Australian Open in Melbourne, but before that we will also play one of the warm-up events, either in Chennai, Brisbane or Dubai, we haven't taken a call yet.

Paes, however, refused to reveal his mixed doubles partner for 2015 but hinted that the women player is a former Czech national.

On Olympics, Paes said there was still a time to decide on, but he would definitely like to be ready physically and mentally to be a medal contender and not just a participant.

"To play seventh Olympics is in itself will be a record, but I don't want to be in Rio just as participant. I want to be a medal prospect," he said.