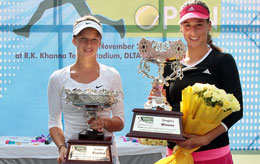 New Delhi: Serbia's 17-year-old Ivana Jorovic, a former World junior No. 1, showcased her superior court-craft before breaking into a disarming smile upon outwitting higher-ranked Barbara Haas (Austria) 6-2, 6-2 in a battle of unseeded teenagers to win the $50,000 QNET Open ITF Women's Circuit before a small crowd at the DLTA Complex here on Saturday.
Having committed to playing in the tournament a few months ago when she was convinced that she would get a wild card entry if she did not make it to the main draw, Ivana Jorovic could look back at her week in Delhi with satisfaction. A string of good performances secured her biggest pro crown in his nascent career which has seen her claim four $10,000 ITF titles.
The finalists had both come through tough three-set semifinals on Friday but Ivana Jorovic, ranked 502 on the women's circuit, showed that she had recovered better and was ready to outslug and out-think her rival. She broke Barbara Haas' serve in the opening game itself, riding on a remarkable drop shot and a stunning backhand down the line.
She sustained her quality of play and ran away to a 4-0 lead before the Austrian, ranked 150 slots higher, could win a game. Barbara Haas broke Ivana Jorovic's serve early in the second set but did not build on the gains as the younger player produced winners at critical moments and quickly recovered lost ground.
The Serb committed a series of double faults in two successive service games in the second set but pulled herself together to stop the match from being stretched into the third set. It can also be said that though Barbara Haas sensed an opportunity of making a match of it, her inability to change her game tactically helped Ivana Jorovic, who picked up a cheque for $7600 and 80 ranking points.
"I was a bit stiff at the start but then I loosen up a bit and played better. I felt a bit pressurized at the end because it was the winning game. I was very nervous." Jorovic. She added "My goal was to be No.1 and I did it this year and now my next goal is to be ranked under 100 or 150."
"I could have played aggressive, I tried but made too many unforced errors and I even had a lot of chances in the second set. I was a bit nervous at times but I am happy. Today wasn't my best game but its okay." Haas.
The result (singles final): Ivana Jorovic (Serbia) beat Barbara Haas (Austria) 6-2, 6-2.