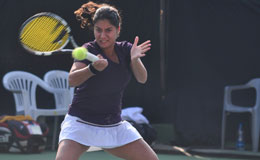 New Delhi: Qualifier Rishika Sunkara and wild card entrant Prerna Bhambri secured somewhat contrasting but straight-set victories over fellow-Indians to advance to the second round of the QNET Open $50,000 ITF Women's Circuit at DLTA Tennis Complex here today.

Rishika Sunkara, who ended up on the losing side the last couple of times she battled against Shweta Rana, found the first round match a piece of cake today. She controlled the match from the start and Shweta Rana made it easier by losing her cool.

"Having lost the last two times to Shweta, I did not think this is going to be this easy," Rishika said. "We have been playing together for a long time now and know one other's game. It's all boils down to how one plays crucial points." Rishika then went on to make the day a memorable one by going through to the doubles quarterfinals with Arantxa Andrady.

After struggling a little in the opening set against Sharon Sanchana Paul, who was lucky to be given a wild card entry, Prerna Bhambri stamped her presence and claimed a 6-4, 6-2 victory. She will most likely face second-seeded Anastasiya Vasylyeva (Ukraine)

Russia's left-handed Margarita Lazareva beat Romanian Daiana Negreanu 7-5, 6-3 in a high quality match that was notable for the energy levels on court.

Minister of State for Information and Broadcasting Col Rajyavardhan Rathore, who inaugurated the Qnet Open, in the presence of the India hockey captain Sardar Singh, exhorted the players to discover the fighter within themselves. "Planes are meant to fly and ships are meant to sail. Athletes are meant to fight with one other and discover the fighters within," he said.

The results (Indians unless specified):

Singles (first round): Margarita Lazareva (Russua) beat Daiana Negreanu (Romania) 7-5, 6-3; Harmony Tan (France) beat Peangtarn Plipuech (Thailand) 6-4, 6-0; q Rishika Sunkara beat q Shweta Rana 6-2, 6-0; Lu Jia-Jing (China) beat Chang Liu (China) 7-6 (3), 6-1; wc Prerena Bhambri beat wc Sharon Sanchana Paul 6-4, 6-2.

Doubles (first round): (1) Lertpitaksinchai Nicha and Peangtarn Plipuech (Thailand) beat wc Ushna Suhail (Pakistan) and Vaniya Dangwal (India) 6-0, 6-0; Prathana Thombare and Emily Webley-Smith (Britain) beat wc Himani Mor and Vanshika Sawhney 6-2, 6-0; (4) Liu Chang and Lu Jia-Jing (China) beat Bhuvana Kalva and Natasha Palha 7-6 (5), 2-6, [10-8]; Kamonwam Buayam (Thailand) and Sabina Sharipova (Uzbekistan) beat Ivana Jorovic (Serbia) and Sofiya Kovalets (Ukraine) 6-3, 1-6 [10-5];

Hsu Ching-Wen (Chinese Taipei) and Wang Xi-Yao (china) beat Daiana Negreanu (Romania) and Prerna Bhambri 6-1, 7-6 (6); (3)Margarita Lazareva (Russia) and Anastasiya Vasylyeva (Ukraine) beat wc Riya Bhatia and Sharon Sanchana Paul 6-2, 6-0; Arantxa Andrady and Rishika Sunkara beat and Wu Ho Ching (Hong Kong) and Sai Samhitha Chamarthi 7-6 (4), 6-3; (2) Marina Melnikova (Russia) and Elise Mertens (Belgium) beat Fama al-Nabhani (Oman) and Ankita Raina 6-2, 6-7 (5), [10-3].

Tuesday's schedule: All the eight seeds in the singles event will be seen in action in the 11 first round matches scheduled for the day.