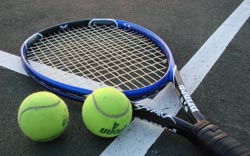 Bangalore: Young Indian lass Shivani Manjanna played her heart out to keep her hopes alive for a berth in the main draw of the Zuari Garden City Open, $10,000 ITF event by defeating country-mate Pragati Nataraj 6-3, 6-4 at the KSLTA Courts here on Saturday.

The 14-year-old Bangalore girl, playing only her first ITF event, gave it all she had against a much more powerful opponent to make it to the second round of the qualifiers.

Shivani started off lethargically, but changed gears quickly to not just pose a challenge but also began attacking with a lot of conviction.

In the marathon of the day, Malaysian Theivlya Selvarajoo overcame stiff challenge from Indian's Adnya Naik to advance 6-7 (5), 6-3, 6-4, in a match that lasted close to three hours.

Thirteen other Indian players along with the other foreigner, Abbie Meyers (AUS) moved into the second round of qualifiers.

Results:
Qualifiers round of 32:

Sweetha Sree Hari (Ind) bt Arundathi Sudan (Ind) 6-1, 6-0; Srishti Salaria (Ind) bt Disha Satish Agarwal Ind) 6-0, 3-0 (retd); Abbie Myers (Aus) bt Saumya Vig (Ind) 6-3, 6-0; Sai Samhitha Chamarthi (Ind) bt Rashmika Rajan (Ind) 6-2, 6-2; Aashima Garg (Ind) bt Abhilash Vishwanath (Ind) 6-4, 7-6 (4); Arthi Muniyan (Ind) bt Preethi Ujjini (Ind) 6-1, 6-3; Sona Sadiq (Ind) bt Nisda Shahid Kamal (Ind) 6-3, 6-4; Amala Amol Warrick (Ind) bt Nupur Umashankar (Ind) 7-6 (4), 6-3; Moulika Ram (Ind) bt Thanushree Vale (Ind) 6-4, 6-1; Rishika Ravindran (Ind) bt Sahan Shetty (Ind) 6-4, 7-5; Simran Kaur Sethi (Ind) bt Muskaan Ranjan (Ind) 6-0, 6-1; Praveen Shivekar (Ind) bt Reshma Ganapathy (Ind) 6-2, 6-1; Nithya Raj Babu Raj (Ind) bt Anushka Sathe (Ind) 6-1, 6-1; Snehadevi S Reddy (Ind) bt Ramya Natarajan 6-1, 6-1; Theivlya Selvarajoo (Mas) bt Adnya Naik (Ind) 6-7 (5), 6-3, 6-4.