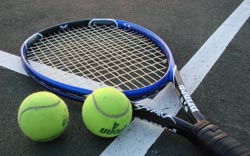 Manila: Manila will host the first leg of the newly launched International Premier Tennis League (IPTL) which has attracted the top players of the ATP and WTA Tour to participate in the eagerly anticipated New Team Tennis competition.

"Bringing world class tennis to new audience's has always been one of the objectives of the IPTL and we are happy to announce Manila as the first host city of our tour across Asia", said Mahesh Bhupathi, Founder of the IPTL and former ATP Doubles stand out. "We had to divert from the original Franchise Owner in Bangkok as the political unrest forced us to look for an alternative city to ensure the safety of all stakeholders. Manila quickly emerged as the perfect location to stage the event for the coming years as we have world class indoor venues available which can hold more than 20,000 spectators each and secondly, the city that has not seen professional tennis for the past 20 years. I was on a site visit this week to speak to different stakeholders and we will announce the host venue and local events partner shortly before we launch the pre-ticket sales in mid-June" Bhupathi continued.

From 28-30 November, the Manila team, represented by Andy Murray, Victoria Azarenka, Jo-Wilfred Tsonga, Carlos Moya, Kirsten Flipkens, Daniel Nestor, and Philippines stand out Treat Huey, will face off against the Singapore "Lions", the Indian "Aces" and the UAE "Falcons".

"We are bringing world class tennis competition coupled with NBA style entertainment to the region" explained Bhupathi, "where the winning team will receive a million dollars in prize money." The best players in the world have committed to play in the league, including of world number 1 Rafael Nadal, Novak Djokovic, Andy Murray, Thomas Berdych, Jo-Wilfred Tsonga, Serena Williams, Victoria Azarenka, Ana Ivanovic, Caroline Wosniacki and former Champions Andre Agassi, Pete Sampras, Patrick Rafter, Carlos Moya and Goran Ivanisevic.

The league format features a total of 24 matches to be played in the 4 host cities Manila, Singapore, Mumbai and Dubai from 28 November until 13 December 2014. The teams compete against each other in one-set men's singles, women's singles, men's doubles, mixed doubles and a Legends singles matches and the team that wins the most games (not sets) wins the match tie.

Novak Djokovic has hailed the new competition as "revolutionary for tennis." The IPTL is a time sensitive, action packed format where each match will not last more than 3 hours so Sports fans are in for a treat this winter and the next years to come.