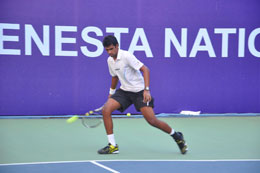 New Delhi: There will be a number of young faces who would look to make their mark in the national circuit as the main draw of the Fenesta National Open Tennis Championships begin at the R.K. Khanna Tennis Complex on Monday.
The men's singles will be a depleted field with top players not available to test their skills at home. But at the same time, their absence will serve as an opportunity for those looking for their big break.
Defending champion Jeevan Neduncheziyan will not be part of the action this year in the men's singles. Arjun Kadhe, who was runner-up to Jeevan last year, will be there and the likes of Nitten Kirrtane, Mohit Mayur Jayaprakash and Siddharth Rawat will ensure that there is competition in the 183-man field.
In the women's singles, Prerna Bhambri, whose shoulder injury has been troubling her right through the season, will look to defend her title.
But the Delhi girl is expected to get stiff challenge from Shweta Rana, Eetee Maheta and Sharmada Balu, all of whom would be looking to win their maiden national title.
The qualifying stages for the men's singles, women's singles and under 18 boys and girls began on Saturday. In the men's singles, Vilasier Khate, Saurabh Singh, Gurinder Singh, Sai Saran Reddy, Anvit Bendre Hardeep Sandhu were among those who made it to the main draw on Sunday.
Khate thrashed Brahamjot Singh 6-3, 6-1, while Saurabh got the better of Vidit Vaghela 7-5, 6-2 to qualify for the main draw.
Andhra boy Rishab Aggarwal and S.D. Prajwal Dev of Karnataka completed the field in the men's singles main draw.
The first week of the tournament will see the men's, women's and under-18 boys and girls singles in action with the final on Saturday, while under-16 and under-14 boys and girls will fight it out in the second week from October 21-26.