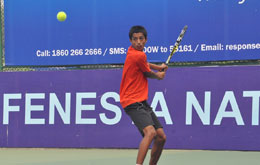 New Delhi: Top seed B.R. Nikshep will battle it out with giant killer Udayan Bhakar for the boys' under-16 title of the Fenesta Open National Tennis Championship on Saturday.

For the girls' under-16 title, it will be Ramya Natrajan against third seed Vanshika Sawhney & also with Mihika Yadav in girls under 14 finals of the Fenesta Open Tennis Championship-Juniors

Both Nikshep and Udayan had to work hard in their respective semi-final matches on Friday but the two did well to fight their way into the final. Nikshep overcame a stiff challenge against Paramveer Bajwa 6-3, 4-6,6-2, while eight seed Udayan earned his place in the summit clash with a 6-1, 7-6(2) win over fourth seeded Aryan Goveas.

In the under-14 boys' final, Nitin Kumar Sinha set up a title clash with Yugal Bansal, while in the girls' category, Ramya will be again in action against Mihika Yadav.

Earlier, the semi-final between Nikshep and Paramveer turned out to be an even contest with both the players fighting hard. Paramveer broke Nikshep in the very first game of the match, but could not hold his in the next.

Nikshep took the lead in the fifth game when he capitailised on a breakpoint and then broke the eight seed again in the ninth to win the opening set. However, tables turned in the second set with Paramveer breaking Nikshep twice in the third and seventh game to draw level. Paramveer could not carry the momentum to the decider and Nikshep just ran away with the match in the third set to book a berth in the final.

High-flying Udayan, meanwhile, looked comfortable in his semi-final match until fourth seed Aryan made his intentions evident in the second set. After an easy opening set, Udayan got the going tough when Aryan made a strong comeback and forced the second set into the tie-breaker. But Udayan, who knocked out second seed Alex Solanki in the quarter-finals, did not put a foot wrong in the tie-breaker and ensured a smooth passage into the final.

In the boys' under-14 semi-finals, Nitin beat Danish Ahmad 6-0, 6-2,while Yugal ended Digvijay's impressive run in the tournament with a 1-6, 6-3, 6-1 victory.

Ramya Natrajan knocked out Aarja Chakraborthy 6-0, 6-2 for a place in the final, where she will face Mihika, who thrashed Zeel Desai 6-0,6-3.

In the Doubles finals today in boys under 16 the seed 1 team Alex Solanki and BR Nikshep won over Sanil Jagtiani and Parikshit Somani by 64,63 .

In the girls under 16 the seed 2 team Vanshika Sawhney and Himani Mor showed great partnership over R Abhinikka and Isha Budwal and won the doubles title 62,75.

In the boys 14 doubles finals Gurjot Singh and Mritunjay Badola had an easy win over Himanshu Mor and Kabir Manrai 61,61 and girls under 14 doubles Sarah Dev and Prinkel Singh won the title in a tough match with Harsha Challa and Sathwika Sama 63,26,10-7

Boys 16 singles
B R Nikshep vs Paramveer Bajwa winner B R Nikshep 63, 46 , 62
Aryan Goveas vs Udayan Bhakkar winner Udayan Bhakkar 61, 76 (2)

Girls 16 singles
Akshara Iska vs vanshika Sawhney winner Vanshika Sawhney75,63
Snehal Mane vs Ramya Natarajan winner Ramya Natarajan 75, 60

Boys 14 singles
Danish Ahmad vs Nitin Kumar Sinha winner Nitin Kumar Sinha 60,62
Yugal Bansal vs Digvijay Pratap Sing winner Yugal Bansal 16,63,61

Girls 14 singles
Ramya Natarajan vs Aarja Chakraborty winner Ramya Natarajan 60,62
Zeel Desai vs Mihika Yadav winner Mihika Yadav 60,63

Boys 14 doubles
Gurjot Singh and Mritunjay Badola vs Himanshu Mor and Kabir Manrai winner Gurjot Singh and Mritunjay Badola 61,61

Girls 14 doubles
Harsha Challa and Sathwika Sama vs Sarah Dev and Prinkel Singh winner Sarah Dev and Prinkel Singh 63,26,10-7

Boys 16 doubles
Alex Solanki and B R Nikshep vs Sanil Jagtiani and Parikshit Somani winner Alex Solani and B R Nikshep 64,63

Girls 16 doubles
R Abhinikka and Isha Budwal vs Vanshika Sawhney and Himani Mor winner Vanshika Sawhney and Himani Mor 62, 75