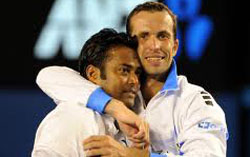 New York: Age is just a number and Leander Paes proved this once again. The Indian, who has already crossed 40, along with his partner Radek Stepanek clinched their second Grand Slam as a team when they beat Alexander Peya and Bruno Soares in the US Open men's doubles final here on Sunday.
Fourth seeds Paes and Stepanek took just one hour and 12 minutes to beat second seeds Peya and Soares the 6-1, 6-3.
It's the Indian/Czech team's fifth title together, and second major following victory at the 2012 Australian Open. Paes dedicated Sunday's win to Richard Leach, the father of his coach Rick, and a former tennis coach at the University of Southern California.
It is the eighth men's doubles Grand Slam title for the 40-year-old Paes who won in New York in 2006 and 2009 with Martin Damm and Lukas Dlouhy respectively, both also from the Czech Republic.

"This one really means a lot to me, because through this year we both had to handle a lot of adversity," said Paes.
"I never lost the belief that I could come back and [Leander] was always in my corner, waiting for me," said Stepanek, who underwent spinal surgery earlier this year. It's third-time lucky for the 34-year-old Stepanek, who finished as runner-up in 2002 and 2012, partnering Jiri Novak and Paes respectively.
The winners will split $460,000 for winning the men's doubles title this year. This is the first US Open title for Stepanek and the eighth Grand Slam men's doubles title for Paes, as well as his 14th Slam overall.
The Indian-Czech pair also leap from No. 22 to No. 4 in the Emirates ATP Doubles Team race to London and now seem like a sure bet to qualify for the season-ending championships. Stepanek is also projected to rise to No. 5 in the ATP World Tour doubles rankings, while Paes is projected to move up to No. 6. Peya and Soares will remain at No. 3 and No. 4, respectively.
Courtesy: www.atpworldtour.com