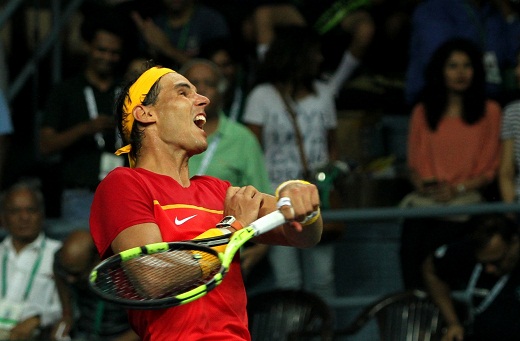 Cincinnati: Rafael Nadal defeated John Isner 7-6(10/8), 7-6(7/3) to win the Cincinnati Masters here on Sunday. It was one of the titles that was missing from his cabinet from past so many years.

The American gave him a tough time but Nadal managed to win the tussle, which has surely raised his stakes not just in ranking, as he will climb to no. 2 spot, but also for the US Open which is going to start from August 26.

The Spaniard has claimed Montreal and Cincinnati Masters in past one week and would surely be giving run for the money to the likes of Novak Djokovic and Andy Murray, who suffered an early exit from Cincinnati Masters.

The final was very much on expected lines as Nadal didn't gave Isner much breathing space as he didn't allow him to have a single break-point in the match. In a close contest in the first set, Isner first earned the set point at 7-7 but his mistimed backhand gave Nadal the much needed chance and he claimed four pints thereafter. Isner gave away the opening set with a volley that went into the nets.

The second set saw some fiery stuff from Nadal who raced away with a lead of 5-1 before he claimed it by 7-6 (7/3).
While in the finals of the women's singles, Azarenka who shattered Serena Williams' dreams of claiming the title. Despite being able to dominate the opening set by 6-2, Williams succumbed under the pressure and lost the two consecutive sets by 2-6, 6-7 (6/8).