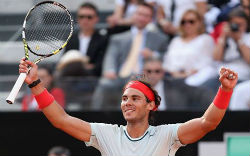 Paris: Rafael Nadal had a tough start to his opening round in French Open here on Monday as he was tested by the German, Daniel Brands in the match that lasted for 2hours and 54 minutes but Nadal finally won it by 4-6, 7-6 (4), 6-4, 6-3.

The Spaniard, who won a record seventh French Open title last year, improved his winning record to 53-1 at Roland Garros.

Nadal lagged when he lost the first set by 4-6 after he was broken in the ninth game and was looking in a bit of trouble even in the second set. But he beckoned some of the best-shot that he has in his armoury which helped him seal the set with 7-6 (4).

Spaniard had a terrific start of the third set as he won the first two games but German bounced back well and reduced the lead to 2-3. But Nadal didn't give him much of a breathing space and showed his dominance by winning the third set with 6-4.

Fortunes started smiling at Nadal as the match went into the fourth set. He won that final set with 6-3 and made his way to the second round.


He's 37-2 since returning in February after a seven-month layoff because of a left knee injury, reaching the finals at all eight previous tournaments he played this year and winning six.