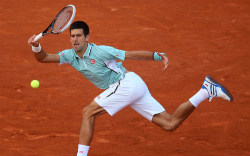 Paris: Number One player of Tennis World, Novak Djokovic, has cruised into the second round of French Open here on Tuesday. He got some tough fight from David Goffin but finally made it to second round by defeating Coffin 7-6 (7/5), 6-4, 7-5.


Djokovic waited for the game, which got delayed due to rain, to start, but once on the court, he came out hard on Goffin. Goffin didn't have gave to stop the World No. 1. He played well but in bits and pieces which was surely not enough to get better of Djokovic.

Goffin gave him a good fight in the first set and stretched Djokovic into the tie break. But Djokovic didn't allow him to fancy his chances in the second set after he was levelled at 4-4. The Serb was back into the grove and won the second set by 6-4 with utter brilliance..

Djokovic registered a victory in the final set with a plunging forehand. The top-seeded Serb will face Guido Pella of Argentina for a place in the last 32.
"I'm happy to win and hope to continue like this. Thanks to all the fans for waiting. It was a good match, David is a good player and has a lot of talent," said Djokovic.

Meanwhile, Bernard Tomic suffered an injury in his opening match of the French Open on Tuesday. He dropped the first two sets against Romania's Victor Hanescu before quitting in the third set to hand a 7-5, 7-6 (9/7), 2-1 win to his opponent.

He went for the medical treatment just after 10 minutes of start of play for a leg injury even though he had just broken for a 2-1 lead. But Romanian didn't give him much chance after he was levelled at 4-4 and went onto win the set 7-5.

Duo was in a tie break of the second set when rain interrupted for some time. But minutes after their return, Tomic left the court.