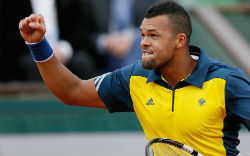 It wasn't even close. Roger Federer has played his last match at Roland Garros 2013, and the man who dumped him out of the tournament is the French No.1, Jo-Wilfried Tsonga. On a day when the 17-time Grand Slam champion simply couldn't get his game going, Tsonga won 7-5, 6-3, 6-3 to become the home nation's first semi-finalist here since Gael Monfils in 2008. The crowd on Philippe Chatrier Court shouted their man's name to the heavens, and if ever there was an occasion for Tsonga's "thumbs dance" to be performed with especial joy, this was it. He will meet David Ferrer for a place in the semi-final. ( Read: French Open: Serena moves an inch closer to title )

The fact is that straight-sets defeats in a Grand Slam for Federer are no longer unthinkable. It is not quite 12 months since the last one, although back then it took the world No.1 Novak Djokovic to pull off the feat. That the No.6 seed, whom Federer calls "Jo-Willy", can now do the same may say something about 31-year-old Federer's waning powers. Perhaps the Swiss was sapped by Sunday's five-set adventure against Gilles Simon. Had he won today, Federer would have set new records for the most career victories at Roland Garros and a 34th Slam semi-final. He fell short of both.

Tsonga, meanwhile, arrived at this quarter-final having conceded a mere 37 games, his fewest ever for this stage of a Slam – but these statistics can amount to nothing. Moreover, before this match Federer led Tsonga 9-3 in their career jousts.

The Frenchman didn't lose a point on his service for the first two games but it was Federer who broke for 3-2. When Tsonga then reached deuce at 3-4 on Federer's service, it felt like his last chance to get back in the set – and he did just that. The net cord helped him out with the break point, and Federer could not stay in the rally that followed. At 6-5 Federer found himself at 0-40 and served away the problem with unruffled assurance, only to send a forehand wide for a fourth chance. Tsonga powered a baseline forehand and the ball skied off Federer's racquet. They had galloped through a 7-5 set in 39 minutes.

In the second, Tsonga was looking frankly comfortable. Watched by his parents Didier and Evelyne, Tsonga broke at once. At 1-4 a glum Federer had yet to notch up a single forehand winner in the set, and it wasn't as if Tsonga was required to play out of his skin. Federer prevented the double break, but he sent the ball long three successive times to gift the set.

There was no sign of a slowdown from the chunky Frenchman. At the start of the third he again kicked off with a break, although Federer clawed it back. "Tsonga! Tsonga!" bellowed the crowd, and he did not let them down. At 3-3 in the psychologically crucial seventh game, Federer fluffed a smash then sent the ball long. On the next point, Tsonga volleyed right at him and took the break, and then had the audacity to finish off the match by purloining the Swiss maestro's service one last time.

"I thought he played great today," said the magnanimous former world No.1. "He was in all areas better than me today, that's why the result was pretty clean. No doubt about it. I was impressed by the way he played today. They have much more energy here, the French guys, than maybe elsewhere. I struggled a little bit everywhere. To be honest, personally, I'm pretty sad about the match and the way I played, but that's how it goes, you know. I tried to figure things out, but it was difficult. And Jo does a good job keeping the pressure on. He can serve his way out of trouble at times, he returned better than I did. I struggled to find my rhythm. Conditions played definitely quite different today again than the rest of the days I played, but it was exactly the same thing for him as well. He played on the same day, so there's no excuse there. I'm just disappointed I couldn't put in a better match."

What was it Federer said after that fourth-round win over Simon? "It's always fun to play these matches." Yes – if you win. This match… not so much.

Courtesy : www.rolandgarros.com