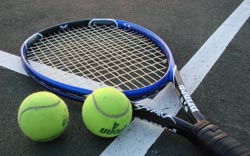 Pune: Fifth seed Rian Pandole from Mumbai pulled up a stunning upset victory over the third-ranked Shree Krishna 3-6, 6-1, 6-3, to advance to the semi-finals of the PCLTA Cup Asian Under-14 Series Tennis Tournament here Wednesday.


In another upset, Zeel Desai of Ahmedabad beat sixth seed Isha Budhwal of Indore 6-3, 6-2, to also make the girls singles semi-finals.
Also making her exit was top seed R. Abhinikka, who was beaten 6-2, 6-6 (7) by Mumbai's Mihika Yadav while second seed Pune girl Snehal Mane scored a easy 6-0, 6-0 win over seventh seed Aastha Dargude.


The results (quarter-finals):

Boys: Vasisht Cheruku(Ind,1) bt Pranash Babu(Ind) 6-3, 6-1; Abhimanyu Vannemreddy(Ind,4) bt Tanmay Thakkar(Ind) 6-3, 6-2; Rian Pandole(Ind,5) bt Shree Krishna(Ind,3) 3-6, 6-1, 6-3; Raghav Jaisinghani(Ind,2) bt Adil Kalyanpurkar(Ind,6) 6-4, 6-2.


Girls: Mihika Yadav(Ind,8) bt Abinikka R (Ind,1) 6-2, 7-6(7); Mansi Reddy(Ind,5) bt Sathwika Sama(Ind,4) 6-4, 6-2; Zeel Desai(Ind) bt Isha Budhwal(Ind,6) 6-3, 6-2; Snehal Mane(Ind,2) bt Aastha Dargude(Ind,7) 6-0, 6-0.


Doubles (second round): GS.Vasani / Nidhitra Rajmohan(Ind) bt Aishwarya Knvgl / Vibha Naiknavare (Ind) 6-1, 6-2; Vaibhavi Deshmukh / Nandini Gupta bt Sathwika Sama / Rutvi Shah(Ind) 1-6, 6-4, 10-7; Zeel Desai / Snehal Mane(Ind) bt Aditi Dilip / Raveena Reddy(Ind) 6-0, 6-1; Harsha Challa / Prathyusha Rachapudi(Ind) bt AL-OLOFI Buthaina(YEM) / Syeda Begum (Ind) 6-2, 6-4; Aastha Dargude / Jeniffer Luikham (Ind) bt Serah Menezes / Pareen Shivekar(Ind) 6-3, 2-6, 10-6. (IANS)