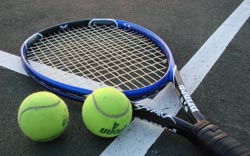 Chennai: With as many as 956 young champions clustered at a tennis training session with players and coaches here, India attempted to break a record of "the largest tennis lesson".
The current such Guinness World Record was made in 2015, with 803 people. It was by Northern Vision (Britain) in Liverpool, Merseyside.
In India, the record attempt was powered by Boost, one of GSK's leading brands in the Health Food Drinks category, which associated Aircel Chennai Open 2017. The children congregated at SDAT Stadium here on Tuesday evening as part of the brand's communication platform of 'Play A Bigger Game', wherein they got to play with the leading tennis players like Leander Paes and Rohan Bopanna.
"While the Guinness World Records may take up to some time to decide, the participants are confident that they have set a record and successfully put India on the world map for this achievement," read a statement issued by Boost.
Also read: Yuki beats Ramkumar 6-2, 6-1 to advance into 2nd round of Chennai Open
Commenting on it, Prashant Pandey, executive vice president - Marketing, GSK Consumer Healthcare, said: "We are extremely overwhelmed with the participation that the activity witnessed and are hopeful to beat the world record."