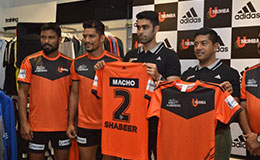 Mumbai: Adidas announced a 2-season partnership with U Mumba team (Champions of Season 2) beginning with the upcoming Pro Kabbadi League (PKL) Season III. adidas will now be the Performance Partner for the U Mumba team, helping their athletes perform to their best on the mat. The Star Sports Pro Kabaddi is all set to storm stadiums and television screens across India with its Season 3 beginning January 30, 2016.
The U Mumba kit was unveiled in the presence of its team players Jeeva Kumar(vice-captain), Rakesh Kumar, Shabeer Bapu, Rishank Devadiga, Coach E. Bhaskaran & Supratik Sen - CEO, U Sports at adidas store in Phoenix Mills, Mumbai.

The new kit from adidas for U Mumba brings a fusion of uniqueness and function through modern design. The kit feature adidas' patented Climalite technology, the fabric pulls the sweat away from the skin to the face of the outer fabric for quick evaporation, enhancing the body's natural temperature regulation.The jersey features the classic round-neck collar and the iconic 3-stripes design down the shoulder with a contrast color necktape as an accent.

Talking about the association, Damyant Singh, Senior Marketing Director, adidas India, said: "In keeping with the growing popularity of the sport and its modern and competitive face, this is a vital partnership for adidas. The design of the kit while appealing to the loyal supporters of the game and the team, will also showcase our expertise in creating state of the art performance products."

"The association of kabaddi with adidas is a clear exemplification of the growth of the sport over the last two years," shared U Sports CEO, Supratik Sen. "U Mumba teaming up with such a globally iconic brand like adidas fits in well with our strategy of aligning with partners that share our vision of growing the sport of kabaddi, with focus on the players as well as the fans", added Mr. Sen. "With this association, U Mumba and adidas will initiate the Global Reach of the sport."