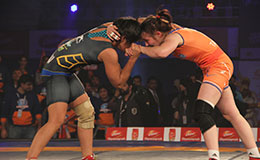 New Delhi: Haryana Hammers will be eager to maintain their all-win record and hold on to the top spot when they take on Punjab Royals in a Pro Wrestling League (PWL) tie at the KD Jadhav Indoor Stadium here on Monday.
Monday's contest, the last league match of this year's Pro Wrestling League, won't affect the teams much as both have already qualified for the semi-finals.
However, the second placed Punjab may have a chance to displace Haryana from the top spot if they win on Monday. They are on six points -- two behind Haryana -- and one more win will put both teams on par at eight points.
In that case, the team with greater number of wins in the league stage will finish the league stage at the top spot and will face the fourth-placed team.
Haryana are on a winning spree. They have defeated Mumbai Maharathi, Uttar Pradesh Dangal, Delhi Sultans and Jaipur Ninjas.
On the other hand, Punjab lost their first match to Jaipur Ninjas, but quickly got back to groove with easy wins over Mumbai, Delhi and Uttar Pradesh.
Read also: Pro Wrestling League : Haryana Hammers beat Jaipur Ninjas to seal semi-final spot
Both teams are considered as strong contenders for the title, and a win on Monday will give a psychological edge to the winners.
Punjab are strong in the men's category, as their captain Vladimir Khinchegashvili of Georgia has won all his four bouts in the 57kg weight category, while Azerbaijani grappler Togrul Asgarov has won two crucial bouts.
On the other hand, Haryana's hopes are pinned on Abdusalam Gadisov of Russia (97kg), who has also won all his four bouts along with Magomed Kurbanaliev of Russia (70 Kg). Sofia Mattsson of Sweden (53 Kg) and Marwa Amri of Tunisia (58 Kg) too are unbeaten in the tournament so far.
Sofia will take on Odunayo Folasade Adekuoroye, whom she had defeated at the Rio Olympics. A stiff battle is expected to be seen in the women's 48kg weight category, where Indu Choudhari will face Nirmala Devi.