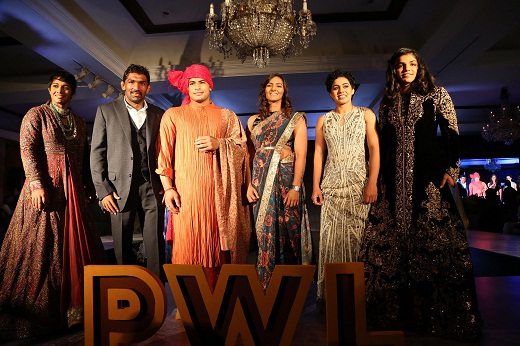 New Delhi: The second edition of Pro Wrestling League organised by Pro Sportify in association with Wrestling Federation of India will feature the largest pool of Olympians and World Champions. A total of 18 top wrestlers along with two Olympics champions and two world champions will fight it out on the mat at Indira Gandhi Stadium, New Delhi from January 2.
"The second season will be more attractive and Indian wrestlers will face fierce competition compared to last edition. The experience of playing against top wrestlers will help them in the long run," said WFI president Brij Bhushan Sharan Singh.
He also mentioned that this year Rio Olympics gold medallist and World Champion Vladimer Khinchegashvili of Georgia (57kg) and Rio Olympics women's champ Erica Wiebe of Canada (75kg) will be the star attraction of the event. "Teams who have to grapple against these two should start working on their strategy already," Brij Bhushan Sharan Singh added.
Other major competitors will Rio Olympic silver medallists Togrul Asgarov of Azerbaijan (65kg), Mariya Stadnik (women's 48kg), Maria Mamashuk (women's 75kg). Asgarov was also a gold medal winner at the 2012 Olympics.
Amongst Rio bronze medallists are Sofia Mattsson (women's 53kg) and Jenny Fransson of Sweden (women's 75kg), Elitsa Yankova of Bulgaria (women's 48kg), Jabrayil Hasanov of Azerbaijan (74kg), Marwa Amri of Tunisia (women's 58kg) and India's Sakshi Malik (women's 58kg).
In all 11 Rio Olympics medal winners will be seen in action in the second season of the league. Along with this London Olympics bronze medallist Liván López will also be a star attraction.
Singh informed that along with Vladimer, Russian Magomed Kurbanaliev (70kg) will be another World Champion in the fray.
Also, Abdusalam Gadisov (70kg), Odunayo Adekuroye (53kg), Vasilisa Marzaliu (75kg) and Erdenebat Bekhbayar (57kg) are additional Olympics bronze medallists participating along with Commonwealth champions like Bekzod Abdurakhmonov (70kg), Gabriel Hasanov (74kg), Reineris Salas Perez of Cuba (97kg) and Carolina Castillo Hidalgo of Colombia (48kg) who will give their best shot.