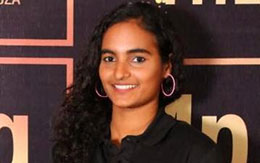 Bangalore: Swimming the State Sub Junior and Junior Aquatic Championships, Gold medalist at the South Asian Games and Bangalore girl Damini Gowda, improved on her own timings to set a new National Record. Swimming the 200Metre Butterfly in 2:21:24, Damini beat her own previous National Record (2:21:53) by less than a second to make this swim noted in the record books.
Swimming in the Speedo LZR Racer X, Damini's new time is also better than her own state record of 2:23:65 which she set in 2015. Damini pleased with her new times shared, "This is my first competition post a summer break for my final exams so I am glad to get back to the pool with signs of improvement. This was a good starting race and I am looking forward to the new season where I will be racing in the Junior Nationals in July."
Damini will next be racing on Friday in the 50Meters Butterfly and 100Metres Freestyle.