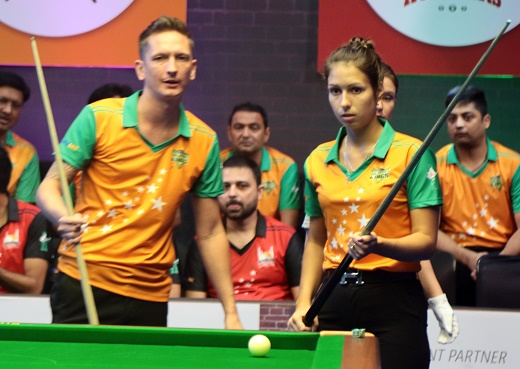 Ahmedabad: Gujarat Kings began impressively before bowing to Bangalore Buddies 2-3 on Day 3 of the inaugural Indian Cue Masters League, at the Rajpath Club, on Tuesday.
The loss was the second for the home side in successive games. They now have one win from three matches.
The Kings began by ruling Match 1 after their fancied international duo of Daria Sirotina and Andrew Pagett made short-work of Anastasia Nechaeva and Darren Morgan in a thrilling three frame encounter.
In the opening frame the Kings left it late with Daria doing the honours by potting the green. The crucial conversion by Daria helped Kings turn a 10-13
scoreline to 15-13 in their favour.
Later, it seemed as if the Banglaore Buddies were running away with the second frame however the Kings did well to stay put but ended up losing 22-26.
In the decider Daria/ Andrew made it a easy affair for Gujarat Kings and won 26-11.
A string of easy defeats of Andrew Morgan, Sourav Kothari and Alok Kumar put the home side in arrears and took the game away from them.
In the last match of the day, Daria Sirotina/ Alok Kumar bagged a consolation win over Varun Madan/ Anastasia Nechaeva.
Results
Match 1, Mixed Double Snooker: Daria Sirotina/ Andrew Pagett b Anastasia Nechaeva/ Darren Morgan 2-1 (15-13; 22-26; 26-11)
Match 2, Icon Player:
Andrew Pagett lost to Darren Morgan 0-2
Match 3, Snooker Singles:
Sourav Kothari lost to Laxman Rawat 0-1 (17-18)
Match 4, Pool Singles:
Alok Kumar lost to Sundeep Gulati 0-1
Match 5, Mixed Doubles Pool:
Daria Sirotina/ Alok Kumar b Varun Madan/ Anastasia Nechaeva 1-0
Gujarat Kings Squad: Icon: Andrew Pagett, Female: Daria Sirotina, Remaining Squad: Alok Kumar, Sourav Kothari, Brijesh Damani; Coach: Ashok Shandilya.