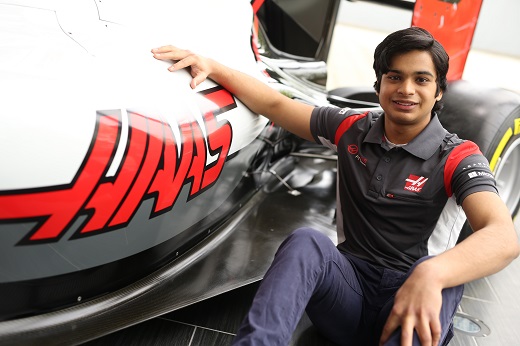 Barcelona, Spain: Driving for Jenzer Motorsports, JK Racing and TVS supported, Indian Driver, Arjun Maini created history this afternoon as the first the first ever Indian to win in the GP3 Series with a dominant victory in Race 2. This is Arjun's first victory in the GP3 Series and this win moves him into third place in the driver's championship.
This victory capped off an amazing week for the young Indian who earlier this week was signed by Haas F1 team as a development driver. Maini proved that he was India's most sought after drivers in his generation with a huge win in Race 2 of the 1st round of the GP3 Series at Catalunya, Barcelona. Starting in P2, the JK Racing supported driver stole the lead from pole-sitter Raoul Hyman in the first lap, and maintained his position to take the victory with an amazing 6 second gap to the nearest car behind him.
Maini finished seventh in Race 1 of the first round of the GP3 season on Saturday. After qualifying a respectable sixth for race one in the morning, Race 1 began with Arjun having a good start and moving up one place on the opening lap. But he could not keep up with the leaders and managed to hold onto 7th place to claim 6 points.
Starting second on the grid, in Race 2, Arjun quickly took the lead and was challenged by Boccolacci in the early stages of the Race 2 but fought back with some smart driving and was able to race clear in first place building a resounding 4.5 second lead by the tenth lap and continued to increase the gap throughout the race. Maini's Jenzer teammate Alessio Lorandi, claimed third place after yet another great drive.
Arjun, delighted at his victory and the joy of having the Indian national anthem being played in his recognition, was modest in his personal analysis of the race, sharing, "I started under pressure as it was essential for me to get to the front from the beginning. My desired lead came from the first corner, followed by a nerve-racking first five laps with Boccolacci on my tail and his attempts to overtake me multiple times while we were in the DRS Zone. Once I broke away from the DRS zone I was able to focus on my pace and started to build the gap. It was the most amazing feeling as I crossed the finish line and it started to sink in that I had my first race win in GP3. As I stood on the podium and heard the national anthem, I was overjoyed that this moment was telecasted across many countries in the world. My deepest gratitude to Gene Haas and Guenther Steiner, for having shown faith and trust in me to include me HAAS F1 Team's development program – an honor that I am still coming to terms with - I am also grateful and thank Sanjay Sharma from JK Racing and the team at TVS motorsport for having supported me as a young driver through the last five years. The national anthem at the podium is a dedication to every Indian who has ever supported me and backed me in any way that they can."