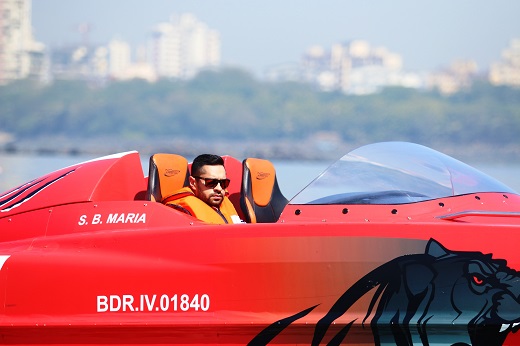 Mumbai: The fastest Indian men on land, APRC Champion and India's best Cross Country Rally Driver, Gaurav Gill, and India's most accomplished supercross & rally-raid champion C S Santosh, are experimenting a sea change in their life to be the fastest men on water too! Piloting powerboats in the NEXA P1 Powerboat, Indian Grand Prix of the Seas, the FMSCI Motorsports Person of the Year 2017 and the only Indian to have completed the Dakar Rally twice, look determined to extend their prowess to water during the weekend of March 3rd 2017 in Mumbai.
Gaurav and Santosh, who have been creating history over the last few years, have yet another chapter added to their biographies, as the first Indians to be piloting powerboats in the historical, inaugural Grand Prix of the Seas. After undergoing extensive training in Powerboat racing in the United Kingdom under seven-time World Champion and three-time World Speed Record Holder, Neil Holmes, the fastest Indian men on land are confident that the experience that they already possess combined with the new skills that they have acquired will make them strong competitors over the weekend.
The Nexa P1 Powerboat, Indian Grand Prix of the Seas, which will be conducted on the first-ever course on water, comparable to a racetrack, challenges status quo and combines the best in innovative technology and bespoke maritime strategy.

Talking about being the first Indian Pilot along with friend CS, Gaurav Gill said, "We are elated that Procam International and P1 Global are hosting the first Grand Prix of the Seas in our country and have created a global structure that is being seeded from Indian shores. We are even more delighted that the two of us have been chosen to champion Indian participation at this premier event. Rallying and Powerboat racing are both high-octane and highly skilled sports and I believe my experience with navigating in pressure situations will make me a strong contender on the weekend."

C S Santosh too shares similar thoughts: "I have challenged myself in the toughest race on land, the Dakar Rally, and have now been training hard to test the challenges of the open seas. I am excited on being given the opportunity to demonstrate my abilities in speed in this new competitive powerboat racing series and look forward to the prospect of racing with highly experienced pilots. I am glad that I am being trusted with an engine, a steering wheel and an instruction that says "Go Fast". Santosh is also eager to see how he would react to having someone else navigate for him, given the independent races he completes and wins.

With the hum and throttle of engines along the shorelines of Mumbai's natural amphitheater – Marine Drive – from 3rd to 5th March 2017, this new sporting paradigm will redefine India's maritime landscape and spearhead a powerful movement for marine sustainability. Managing Director, Procam International, Anil Singh, who was instrumental in identifying these two young riders to be Powerboat Pilots, and executing their licensing and training plans under World Champion Neil Holmes, concluded, "When Mumbai was finalized as the venue for our first ever Grand Prix Series, we knew we had to have competent Indian pilots who could compete amongst the best in the world. We found India's fastest men on land and provided them with the right resources and training. I am sure they will utilize their experience and skills to emerge as the fastest men on sea too!