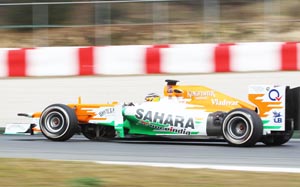 Mexico City: Sahara Force India scored 10 points in Sunday's Mexican Grand Prix with Nico Hulkenberg and Sergio Perez racing to seventh and eighth places.

Happy with his result, Nico said: "It was a good race, although I was quite lonely for most of it. We couldn't have gotten any more from it so I feel very happy with the result. The Safety Car ended up playing into my hands, which is the little bit of luck you always need to get a good result, but our pace was strong and we were able to hold our own. I am really happy about this performance and finally getting back in the points after a bit of a difficult period for me. It was a very clean race from my part, with no mistakes and no problems."

"It took a lot of management as the temperatures were high and we had to look after the brakes as well, so from that perspective it was a very demanding race. The atmosphere today was one of the best I have ever experienced and the drivers' parade was something very special. The event was great and the fans have been so welcoming - I feel I have been adopted as a Mexican now! Today's result is important for our championship battle so it's a great day for everyone in the team," he added.

Sergio said: "What a week this has been here in Mexico! The atmosphere has been amazing and there were so many special moments. The race today was probably one of the most difficult of my career because I was very unlucky with the timing of the safety car, which really didn't help my one-stop strategy. We chose not to pit when it came out because we thought there was a chance to jump Nico [Hulkenberg] and Felipe [Massa], but in reality that didn't happen."

"Then the team told me that the cars behind had all pitted and fitted new tyres, so I was a bit worried because I knew the final fifteen laps would be very difficult. To stay ahead of them and finish in eighth place is probably one of my best performances in Formula One and I'm very happy I could score points in front of my home crowd. I am very lucky to have this huge support from my country and I will remember this weekend forever. I think everybody has enjoyed the energy of the crowd and this must surely be one of the most popular races on the calendar now," he added.