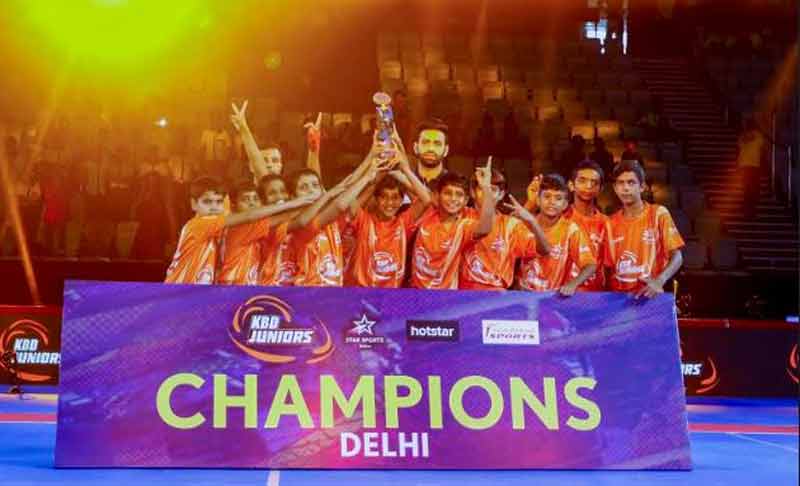 Delhi: Showcasing passion and intensity for the sport, KBD Juniors Season 3 city finals in Delhi saw the toughest team – Mother Khazani Public School emerge victorious 28 – 8 against L K International School. Prince Dahiya was the Top Raider with 13 Raid points and Raman Mother Khazani was the Top Defender with 4 tackle points.
The young guns of Kabaddi entertained the crowd with their impressive skills and fighting spirit. In a brilliantly orchestrated game, the students from Mother Khazani School demonstrated skill and strength on the mat showcasing the toughness of the sport which led them to a 20 - point victory. Prior to the city finals, the two semi-final matches witnessed Raman Khazani School prove their mettle against Joseph and Mary Public School and L K International School winning against R K M Modern School.
Dabang Delhi K.C. player, Vijay Malik was present at Thyagaraj Sports Complex, Delhi said, "KBD Juniors is a great platform which encourages students to showcase their talent and it was a great experience to be part of the same. All the kids have played in such a professional manner and it just highlights the bright future of kabaddi. My heartiest congratulations to the winning team and I wish each one of them all the best for all their future endeavours in Kabaddi."
The schools in fray for the coveted title of Delhi city champions included G D Goenka Public School, Joseph and Mary School, Mother Khazani Public School, Rockfield Public School, Laxman Public School, R K M Modern School, Raj Modern School and L. K. International School.
Score Sheet
| | | | | | | |
| --- | --- | --- | --- | --- | --- | --- |
| Match | Team1 | Team2 | Score | Top Raider | Winning Team | Stage |
| 1 | G D GOENKA PUBLIC SCHOOL SEC- 9 | JOSEPHAND MARY PUBLIC SCHOOL | 19 – 22 | KARAN G D GOENKA PUBLIC-9 | JOSEPH AND MARY PUBLIC SCHOOL | League |
| 2 | MOTHER KHAZANI PUBLIC SCHOOL | ROCKFIELD PUBLIC SCHOOL | 37 – 5 | PRINCE DAHIYA-16 | MOTHER KHAZANI PUBLIC SCHOOL | League |
| 3 | LAXMAN PUBLIC SCHOOL | R K M MODERN SCHOOL | 15 – 27 | ANUJ RK-11 | R K M MODERN SCHOOL | League |
| 4 | RAJ MODERN SCHOOL | L.K INTERNATIONAL SCHOOL | 9 – 26 | Monty L.K INTERNATIONAL-6 | L.K INTERNATIONAL SCHOOL | League |
| 5 | JOSEPH AND MARY PUBLIC SCHOOL | MOTHER KHAZANI PUBLIC SCHOOL | 11 – 25 | PRINCE DAHIYA-12 | MOTHER KHAZANI PUBLIC SCHOOL | Semi-final |
| 6 | R K M MODERN SCHOOL | L.K INTERNATIONAL SCHOOL | 21 – 23 | ANUJ RK-14 | L.K INTERNATIONAL SCHOOL | Semi-final |
| 7 | MOTHER KHAZANI PUBLIC SCHOOL | L.K INTERNATIONAL SCHOOL | 28 – 8 | PRINCE DAHIYA-13 | MOTHER KHAZANI PUBLIC SCHOOL | Final |