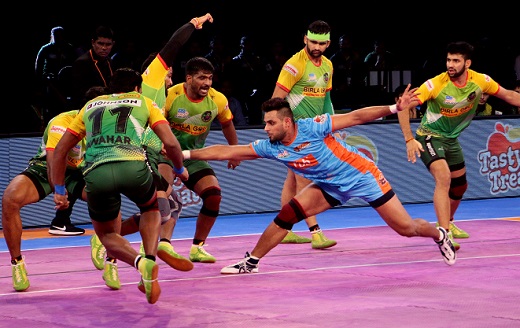 Bengal Warriors produced an incredible comeback in the dying minutes to tie their match at 37-37 against Patna Pirates in Match No. 83 of VIVO Pro Kabaddi Season 5. Patna Pirates looked on course to a comfortable win as they held a four-point advantage in the last minute. Bengal turned the match on its head by inflicting an all out in the last minute to level the match. Pardeep Narwal scored 13 points whereas Monu Goyat chipped in with 11 for Patna Pirates. For Bengal Warriors, Maninder Singh scored 15 points and Deepak Narwal chipped in with 10 points.
Bengal Warriors are top of the table in Zone B with 53 points from 15 matches. Patna Pirates are second with 49 points from 14 games.
Maninder Singh scored two points in two minutes as Bengal Warriors led 2-0. Monu Goyat scored two bonus points as Patna Pirates were level at 2-2 after four minutes. Pardeep Narwal scored his first point in the fifth minute to give Patna 4-2 lead. Maninder Singh was the only one scoring as his fourth raid point in the seventh minute. Bengal Warriors scored their first tackle point to send Pardeep Narwal on the bench to tie the match at 6-6 in the 8th minute.
Bengal Warriors forced a super tackle in the 14th minute to level the match at 9-9. Monu Goyat scored his seventh point as Patna Pirates inflicted an all out to lead 15-10 after 17 minutes. Bengal Warriors kept Pardeep Narwal quiet in the first half as they went into the break trailing 14-18.
Pardeep Narwal scored with a two-point raid in the 22nd minute to give Patna Pirates 19-15 lead. Maninder Singh scored with a super raid as Bengal Warriors trailed 21-26 after 26 minutes. Pardeep Narwal attained a super 10 in the 28th minute as Patna Pirates inflicted another all out to lead 31-23
Maninder Singh scored his 12th point of the match as Bengal Warriors trailed 25-32. Deepak Narwal scored with a successful raid as Bengal reduced the deficit to five points in the 35th minute. Maninder Singh scored another raid point in the 40th minute as they trailed 33-37. Bengal Warriors inflicted an all out in the last second to tie the match at 37-37. It was a dramatic comeback by Warriors who maintained their position at the top of the table.
JAIPUR PINK PANTHERS DEFEAT DABANG DELHI 36-25
Meanwhile, a terrific all-round performance by Jaipur Pink Panthers saw them thrash Dabang Delhi 36-25. Nitin Rawal and Pawan Kumar combined to score 12 raid points whereas Manjeet Chhillar and Sidharth scored nine tackle points. It was a disappointing performance by Dabang Delhi as they were second best for majority of the match. Abolfazl scored six raid points for Dabang Delhi.
Jaipur Pink Panthers remain fifth in the Zone A table with 36 points from 11 matches. Dabang Delhi remain rooted bottom of the table with 28 points from 11 matches.
Pawan Kumar scored with a two-point raid in the second minute to give Jaipur Pink Panthers 3-0 lead. Abolfazl opened Dabang Delhi's account in the third minute. Jaipur Pink Panthers led 5-3 after five minutes and looked like the better side.
Dabang Delhi scored a tackle point in the 10th minute to level the game at 6-6. The next few minutes saw both teams exchange raid and tackle points as it was 7-7 in the 13th minute. Jaipur Pink Panthers inflicted an all out in the 15th minute to lead 14-8. Dabang Delhi were looking a bit hapless as Jaipur Pink Panthers went into the break leading 18-9.
Dabang Delhi began the second half in the worst possible fashion as they suffered another all out in the 24th minute to trail 12-24. Meraj Sheykh was having an off day for Dabang Delhi as they struggled to get raid points on the board. Jaipur Pink Panthers were cruising in the second half as they led 26-16 in the 28th minute.
Nitin Rawal scored with a two-point raid in the 31st minute to give Jaipur 28-18 lead. Abolfazl scored a raid point in the 35th minute as Dabang Delhi trailed 19-32. Dabang Delhi restored some pride in the last five minutes as they scored four points in four minutes to trail 23-33. Ajit Singh scored a super raid in the 40th minute for Jaipur Pink Panthers as they led 36-24. Jaipur Pink Panthers ran out comfortable winners as they wrapped it up at 36-25.