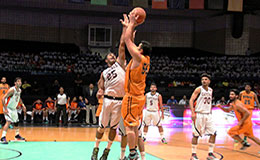 Hyderabad: Delhi Capitals have progressed to the finals of the United Basketball Alliance (UBA) Pro Basketball League Season 2 that is underway at the Gachibowli Indoor Stadium. North division toppers Delhi Capitals were clinical in their 78-69 victory over Mumbai Challengers to win the best-of-three semifinal series 2-1.
The second and last game of the semifinals was between archrivals in the southern division, Pune Peshwas and defending champions Chennai Slam. The two adversaries met in the final of Season 1. But this time, only one of them could qualify and the Peshwas were riding on the momentum of their game winner in the previous match, hoping to knock Chennai out of the tournament.
However, the defending champions had other plans, getting off to a rollicking start. Slam centre Gopal was effective as usual in the paint overwhelming the smaller Pune frontcourt. The Chennai backcourt consisting of Nigerian point guard Chukwunanu Agu and shooting guard Cammy Carmel was electric today, putting on a show from start to finish. Cammy started the game pulling up, getting to his spots and hitting mid-range buckets. Agu knocked down his first couple of freethrows and followed that up with a triple. Pune's hero in Game 2, Narender Grewal stayed true to form, penetrating and finishing in the paint as well as finding his touch from long range. Despite his play, Chennai raced off to a 10-point lead at the end of the first.
The second quarter witnessed up-and-down play from both teams. Shinde knocked down a couple of triples in the first half, coupled with Narender's strong drives. Coach's son Ajinkya Mehta came off the bench to hit an unexpected 3 for Pune along with a reverse layup on the next possession to provide a much need offensive boost to Pune. But Chennai kept their scoring going led by Gopal and Agu. Gopal could not miss in the first half, ending up scoring all 6 of his attempts.
Pune was always a step behind Agu, finding it difficult to handle his speed and athleticism. Lengthy forward Arjun GK came off the bench adding to Chennai's offensive weapons, even hitting a big tip-in late in the second. Even scoring in the second quarter from both teams kept Chennai on top at halftime with the score at 47-35.
In the second half, it was the Cammy show. The shooting guard, who has been putting up quiet numbers through the tournament, had a breakout game, owing the second half. Pune had no answer for Cammy, as he had his way with the Peshwas' defense. He put his full bag of tricks on display today, penetrating with ease and finishing with skill. Both Agu and Cammy were also creating easy buckets for their teammates, having 15 assists between them. Big men Gopal, Ashutosh and Arjun were on the receiving end of those assists, converting open shots in the paint. After outscoring Pune 30 to 14 in the third quarter, Chennai broke away to cruise to a blowout victory.
Narender (24 points) and Shinde (29 points) were the only aggressors for Pune, draining their triples and getting inside to score. Shinde had 9 triples in the game, but most of them came a little too late as Chennai kept building on their lead with lackluster defense from Pune. The fourth quarter was all about 'styling and profiling' for Chennai, as they gave the crowd something to cheer about.
Carmel was on fire on his way to almost a quadriple-double with 27 points, 9 rebounds, 7 assists and 6 steals. "I was thinking too much in the previous games.
Today, I just zoned everything else out. Once I got my first few shots, my confidence was high and I stayed aggressive," said player of the match Cammy after the game.
"The south division this year was especially hard because any team could click on a given day. The entire credit goes to our defense. Defense led to easy transition buckets." said championship-winning Chennai coach Ravi Kumar. The defending champions have set a date with the Delhi Capitals in a best-of-three finals, starting this Friday.
Chennai Slam (Cammy Carmel 27pts 7asts 6stls, Gopal Ram 26pts, Arjun GK 15pts 10rbs, Chukwunanu Agu 14pts 8asts) bt Pune Peshwas (Siddhanth Shinde 29pts, Narender Grewal 24pts 10rbs, Ajinkya Mehta 12pts 9rbs) 97-76 (26-16, 21-19, 30-14, 20-27)
Game 3 of the north division semifinal series between the Mumbai Challengers and Delhi Capitals was expected to be a tough, grind-out contest between two of the most talented and cohesive sides in the league. After Mumbai took Game 1, Delhi came from behind to clinch Game 2 and force a third match in the series.
The Capitals were the aggressors in the early going, especially on the offensive glass, creating a lot of second chance opportunities. Forward Smithin Setu opened the scoring for Delhi in the paint. Point guard Sachin Sharma was able to penetrate and push the tempo in transition to score. Small forward Ajay Pratap Singh provided the surprise offensive element for Delhi. He made some tough layups in transition, including finishing with his weak hand. Mumbai's 3-point shooting was down in the beginning, with only Ranbir connecting on the sole 3-pointer in the first quarter. Gagandeep Singh stuck to his style of play that has brought him success throughout the series, rising up above smaller defenders to knock down close jumpers.
Delhi were up 15 to 12 entering the second quarter, as they continued their fact-paced style of play. Smithin was able to connect in the paint again for Delhi.
Vinay Kaushik, who had a quiet first period, came alive with a strong drive in transition. The fearless guard put his body on the line driving to the basket, as was evident from a nasty fall he suffered midway through the second quarter.
Thankfully, he was unhurt and made both his freethrows to prove his toughness. His teammate Ajay Pratap maintained his scoring touch making some pretty
looking buckets on the break. But towards the end of the second quarter, Mumbai fought back led by centre Gagandeep Singh and former India star Jagdeep Singh Bains. Both of them were tough to contain in the paint as they overpowered the Delhi defenders to get to the hole. Mumbai managed to cut the Delhi lead down to 2 points with the halftime score at 38-36.
Desperate to not give up their lead, Delhi came out with intent in the third quarter. Centre Ramesh showed good touch around the basket, getting deep in the post to score. Ramesh and frontcourt mate Smithin combined for 10 offensive rebounds in the game that contributed to a total of 15 second chance points for Delhi. Vinay Kaushik knocked down a timely triple to go with another brawny drive in transition to help put some separation between the two teams.
Jagdeep was the main offensive catalyst for Mumbai creating mismatches and forcing his way to the basket. But a couple of opportune buckets from Delhi's bench players in the late minutes of the third quarter ensured Delhi had a 6-point lead entering the fourth quarter.
The fourth quarter was Vinay Kaushik's time. Whether it was his long-range shooting or his bold drives to the basket, Kaushik put on a show for the Hyderabad crowd. Big men Smithin and Ramesh added to Kaushik's scoring, creating second chance opportunities and finishing in the paint. Delhi raced to a double-digit lead down the stretch and Mumbai lost their offensive flow, struggling to make buckets late. Mumbai point guard Prudhvi Reddy hit three late 3-pointers in garbage time, but that did not affect the outcome of the game.
Delhi secured Game 3 with a 78-69 win to advance to the UBA finals. Delhi Centre Ramesh won player of the match medal and a cash prize of Rs 25000/-.
Delhi Capitals (Ramesh 17pts 15rbs, Vinay Kaushik 16pts, Smithin Setu 13pts) bt Mumbai Challengers (Gagandeep Singh 19pts, Jagdeep Bains 14pts, Ravinder 11pts, Prudhvi Reddy 11pts) 78-69 (15-12, 23-24, 21-17, 19-16)