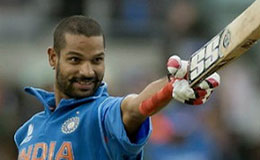 Ranchi: Fantastic batting display by the Indian top order, including Shikhar Dhawan (51 off 25 balls) and Rohit Sharma (43 of 36 balls), followed by some superb bowling from R Ashwin (3-14) and Ravindra Jadeja (2-24) helped India beat Sri Lanka by 69 runs in the second T20 match in Ranchi on Friday. With this win India also levelled the three-match series 1-1.
Giving credit to the whole team for their all-round performance, Indian skipper Mahendra Singh Dhoni said the wicket offered something for everyone. "Almost 200 runs were scored, but there was something for everyone. Our top order has done well, so we're trying to give everyone an opportunity whenever possible," said Dhoni, adding that experimenting was a word "banned" from Indian cricket.

"But yes we're trying different things. Most of our fielders are above average. Sometimes in T20s, even the slower ones can get away. But yes, fielding is very important. As for me being a bit unorthodox behind the stumps really helps, but credit should go to the bowlers for beating the batsman," he said.

Meanwhile, Sri Lanka skipper Dinesh Chandimal gave credit to the Indian batsmen for this win. "We tried hard as a bowling unit, but eventually gave away 25 extra runs. We need to regroup. On this kind of track, we needed to mix our Yorkers and slower deliveries well. Hopefully our bowlers will learn quickly. We'll put our heart and soul into the next game," he said.

"The surface wasn't anywhere near the kind we saw in Pune. It looked like the cracks would dictate terms to make this into a low-scoring contest, but we were all proved wrong. The sheen on the surface aided proper bounce, and once India posted close to 200, they were halfway there. Sri Lanka perhaps could have done something out of the box, but their efforts proved futile in the end," he said.