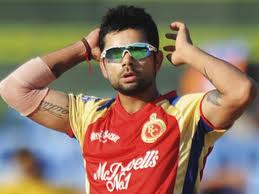 India Test captain Virat Kohli is the highest-paid cricketer in the Indian Premier League (IPL), according to the salary figures released by the Board of Control for Cricket in India (BCCI), on Friday, says a report in Calcutta Telegraph, adding that Kohli's actual salary with the Royal Challengers Bangalore was listed as Rs 15 crore, while the purse deduction amount from the franchise was Rs 12.5 crore in the list put up by the BCCI on its website.
"Mahendra Singh Dhoni, for long believed to be the most expensive IPL cricketer, will be paid Rs 12.5 crore, which is the same as his purse deduction by the Pune franchise. The RP-Sanjiv Goenka Group-owned Pune franchise bought Dhoni in a draft of players who were part of the suspended Chennai Super Kings and Rajasthan Royals franchises. Shikhar Dhawan of Sunrisers Hyderabad will also get the same amount as Dhoni," says the report.
Meanwhile, a report in The New Indian Express says that with the Justice Lodha Committee set to file its report on Monday in the Supreme Court recommending changes to the BCCI's constitution and manner of functioning, the cricket board on Friday for the first time released the actual salary details of retained players by the IPL franchises.
Here are the details of Salary Purse Deduction and Actual Salary of the Retained Players as per the BCCI website.
| | | | | | |
| --- | --- | --- | --- | --- | --- |
| Sr. No | Team | Player | Country | Purse Deduction (INR) | Actual Salary (INR) |
| 1 | KXIP | David Miller | South Africa | 125,000,000.00 | 50,000,000.00 |
| 2 | KXIP | Manan Vora | India | 40,000,000.00 | 3,500,000.00 |
| 3 | KKR | Gautam Gambhir | India | 125,000,000.00 | 100,000,000.00 |
| 4 | KKR | Sunil Narine | West Indies | 95,000,000.00 | 80,000,000.00 |
| 5 | MI | Rohit Sharma | India | 125,000,000.00 | 115,000,002.00 |
| 6 | MI | Keiron Pollard | West Indies | 95,000,000.00 | 97,000,000.00 |
| 7 | MI | Lasith Malinga | Sri Lanka | 75,000,000.00 | 81,000,000.00 |
| 8 | MI | Harbhajan Singh | India | 55,000,000.00 | 80,000,000.00 |
| 9 | MI | Ambati Rayudu | India | 40,000,000.00 | 60,000,000.00 |
| 10 | RCB | Virat Kohli | India | 125,000,000.00 | 150,000,000.00 |
| 11 | RCB | A B deVillers | South Africa | 95,000,000.00 | 95,000,000.00 |
| 12 | RCB | Chris Gayle | West Indies | 75,000,000.00 | 84,000,000.00 |
| 13 | SRH | Shikhar Dhawan | India | 125,000,000.00 | 125,000,000.00 |
| 14 | Team Pune | M S Dhoni | India | 125,000,000.00 | 125,000,000.00 |
| 15 | Team Pune | Ajinkya Rahane | India | 95,000,000.00 | 80,000,000.00 |
| 16 | Team Pune | R Ashwin | India | 75,000,000.00 | 75,000,000.00 |
| 17 | Team Pune | Steven Smith | Australia | 55,000,000.00 | 40,000,000.00 |
| 18 | Team Pune | Faf du Plessis | South Africa | 40,000,000.00 | 47,500,000.00 |
| 19 | Team Rajkot | Suresh Raina | India | 125,000,000.00 | 95,000,000.00 |
| 20 | Team Rajkot | Ravindra Jadeja | India | 95,000,000.00 | 55,000,000.00 |
| 21 | Team Rajkot | Brendon McCullum | New Zealand | 75,000,000.00 | 32,500,000.00 |
| 22 | Team Rajkot | James Faulkner | Australia | 55,000,000.00 | 51,000,000.00 |
| 22 | Team Rajkot | Dwayne Bravo | West Indies | 40,000,000.00 | |