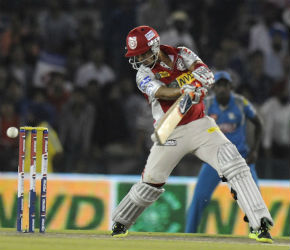 Kolkata Knight Riders are looking for desperate comeback and they can't get a better team than Kings XI Punjab to beat. However KKR would definitely remember the drubbing they received from Punjab a week back. Gautam Gambhir has been their best player but he needs to be cautious as Punjab has some good bowlers in Harmeet Singh and Praveen Kumar which can do some serious damage in initial overs. But to counter Harmeet's slower bouncer; Eoin Morgan looks all set who can be really explosive and add to that some ruthless power of Manoj Tiwary, it makes KKR a better looking team. But the real battle will be between David Miller and Sunil Narine who had put up a great show in recent matches and would be itching to prove it yet again whereas Rajat Bhatia would be looking to spell his magic against David Hussey and Mandeep Singh with his off-cutters and slower ones.

Here we bring to you the players who can make significant difference with their brilliant cricketing skills.
Kolkata Knight Riders (KKR)
Gautam Gambhir: Gambhir has this ability to lead by example which makes him a great captain but he needs to find the right team combination as of now. Sunil Narine has been the most trusted bowler for Gambhir but excessive pressure on one bowler might backfire in long-run and that's why he should include Brett Lee in place of Senanayake. Gambhir needs to be a task master otherwise one or two loss and KKR will be out of the contention.
Eoin Morgan: Morgan has been consistent this season but he needs to bat till the very end because there seems to be no one in KKR who can hold the innings together. He should take this responsibility of a finisher and give his side that extra 20-30 runs which has been missing till this stage of tournament.
Sunil Narine: Narine was sensational with the ball in last match and picked up three wickets and gave away just 17 runs in his four overs. He has been the silver lining for KKR this season and he just needs some good support from other end which Brett Lee can surely give.
Rajat Bhatia: Bhatia has been the unsung hero for KKR and he has been quite consistent with the ball. His ability to get those crucial breakthroughs in mid overs makes him a great asset for Gambhir. But using him in death overs is not an interesting prospect and it would be better if Gambhir goes with expert bowlers.
Yusuf Pathan: He has shown some hints of good form in his 19 runs knock where he was timing the ball very sweetly. His explosive innings at the start is very much needed and he has to raise his fielding standrds which has not been upto the mark in this season.

Kings XI Punjab (KXI-P)

Harmeet Singh: Harmeet Singh displayed some sensible bowling as he kept mixing his slower bouncer with short balls to tease the batsmen every now and then. He ended up picking three wickets for just 24 runs in his four overs. He holds the key for their success as the slowness of wicket will make him much more unpredictable.
Mandeep Singh: Mandeep Singh has been in brilliant form and it would be a treat to watch when he will battle it out against Narine and Bhatia in their next encounter against KKR. He scored 24 runs in 15 balls which were decorated with five crisp boundaries.
David Miller: Miller has been the best player for Kings XI Punjab in the middle order so far. He has played couple of brilliant innings which has led his side to the victory. He has that ability to switch on and switch off his aggressive mode which makes him look an impeccable player.
David Hussey: Hussey has played some good knocks and in last match he did some fabulous work with the ball. He bowled his four overs and gave away just 14 runs and at Eden Gardens he can expect some good dividends with his accurate line and length.
Praveen Kumar: Praveen has bowled exceptionally well and at Eden Gardens he would be looking to make it big. His ability to swing the balls both ways makes him a tough customer to handle but he needs to be much more accurate in the death overs. Though in last match; he did show some brilliant stuff with Yorkers, however, he needs to be more consistent with it.

By Amit Chopra
Indian Sports News Network