298 Tehsil winners gearing up for District level matches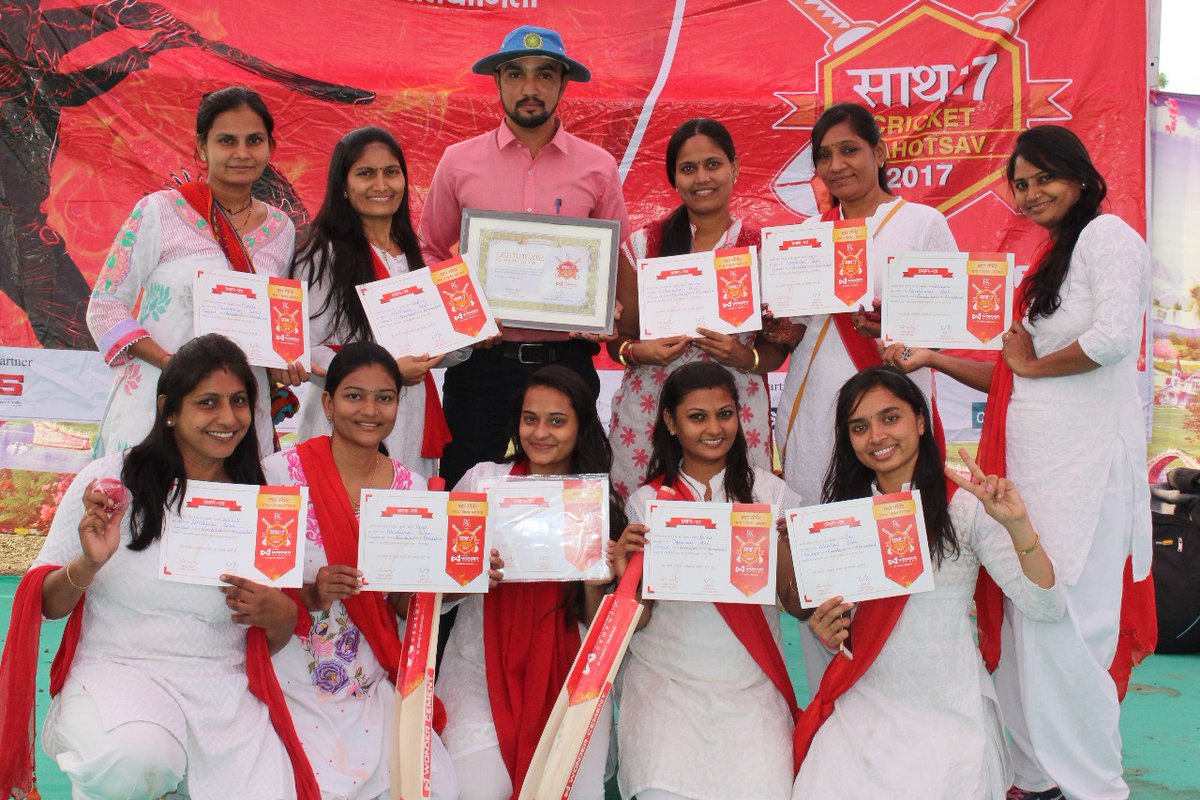 Udaipur: 7 Cricket Mahotsav, one of India's largest consumer engagement initiative is ruling people's heart. After matches being played at the Tehsil and District Levels, 51 winning teams have entered the Zonal Level of the tournament which will be held on 17th December 2017. The winning teams at each district were felicitated with trophy, certificate and a cash prize of Rs 14,000/-.
On this occasion Vivek Patni, Director, Wonder Cement said, "Cricket isn't just a game; it is a bona fide religion. People from all three states, Rajasthan, Gujarat and Madhya Pradesh have shown an interest beyond the realm of our expectations. We get to witness the sportsman spirit and courage from all these amazing people that participate from all walks of life."
This year, we have got 60 'all girls team' registered. Teams having one or more female players have taken total women participation to more than 1000. The players have made 11 centuries, 79 half centuries and 7 hat-tricks in the tehsil level matches alone.
We have seen powerful performances by the players in the district level matches too. Mustkim Bareza from Pradhan Club, scored 101 runs not out just in 28 balls in Udaipur. In Ahmedabad, a special all housewives team battled in the matches and made it to the Saath7 district finals. Kamlesh Meena from Surya cricket club from phalgi district made a hattrick at the district level matches at Jaipur. The matches drew a tremendous public response. The public boosted the players with loud cheers and enjoyed the matches.
It's an awe-inspiring sight to see the spectacular performance of the players and people cheering loudly to boost up their teams. The winning teams will now converge at 8 zones for the next level of tournament. The finale of the tournament is scheduled on 24th December 2017 in the City of lakes - Udaipur.
Some more highlights:
This year total 14,000 teams registered for Saath7 Cricket Mahotsav
60 All women's team registered for Saath7 Cricket Mahotsav
Total 11 Centuries scored during tehsil level matches
Total 79 Half Centuries scored during tehsil level matches
Degam Choudhary from Pratapgarh District scored 144 runs, he is from DRL Cricket Clun Deriyaer
All housewives team team played their match in Ahemdabad
40 year old lady name Komal Soni
Mustkim Bareza from Pradhan Club took his team to victory with 101 not out in just 28 balls!
Alka Kanojia (Girl Player) of Rock On Gujarat, scored 57 not out.
Wonder Cement Saath7 Cricket Mahotsav 2017 is world's largest Consumer Engagement Campaign involving cricket, where 48000 people will participate across the 3 mega states of India viz. Rajasthan, Madhya Pradesh & Gujarat.
It is a high energy 7 players 7 overs tournament which provides a ground for the people of remote areas of our states to up come on the field, show their talents and make their cricket dreams a reality. Giving it a twist, if a team has a girl member it gets 7 runs as bonus for every match, a feature added for encouraging the aspiring women to come up on the field with dignity and play alongside men. With a total cash prize of Rs 40 lakhs to be awarded to the winning teams across the entire tournament from tehsil level to the finals, the champions of the tournament will be awarded 3.5 lakh cash prize. Legendary cricketer Shree Kapil Dev inaugurated the event on the 1st November at our National Capital Delhi and announced that the best player of the tournament will get Rs 1 Lakh bounty directly from him in recognition.
The Scale and the Spirit of Wonder Cement Saath7 Cricket is directed at encouraging local talent, promoting women emancipation, bringing unity across all strata of society, and generating local employment. It is eagerly awaited by people to interact, play and enjoy the fun and amusement it brings along.
---