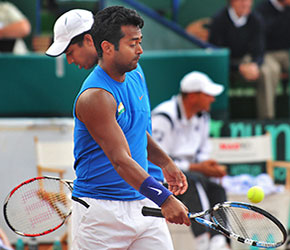 The journey from boy to man is often defined by courage and Leander Paes is a living example. He captured the imagination of sporting public when he won the 1990 Wimbledon Junior title and rose to no. 1 in the junior world rankings. Thereafter, it has been a relentless drive by a remarkable man with loads of commitment, courage, personal pride and strength of mind.
Ever since his first Wimbledon title at the junior level, he has played with authority, almost an arrogance that has been dazzling to watch and mostly impossible to contend with. And his winning the 2015 Australian Open mixed doubles title with Martina Hingis at an age when most of his compatriots are cooling their heels in their air conditioned rooms, is truly remarkable.
When people talk about the greatest sportspersons of India, they talk about Major Dhyan Chand, Sachin Tendulkar, Sunil Gavaskar among others; but one name that they often miss is that of Leander Paes – the man who has toiled endlessly on the tennis courts for over two decades, bringing in laurels galore for himself and the country as whole. If hockey has Major Dhyan Chand, cricket has Sachin Tendulkar, than Indian tennis is synonymous to Leander Paes.
He is a synergy of mental and physical strength and is still going strong at 41. He is a perfect symphony of skill, class and consistency under adversity. The Indian fans have got the see the best of Leander when he has been playing for the nation, be it the Davis Cup or the Atlanta Olympics, where he became only the second Indian after K Jadhav to win an individual medal (bronze) in the 'mother of all sporting events'. Now, Leander proved his mantle once again and bagged his 15th Grand Slam title by winning the Australian Open mixed doubles title. He is in the elite league of players who have won all the slams in their career.
Leander Paes play tennis, the game played by most of countries of the world, unlike cricket which is played competitively in just 10-12. And people who know about sports is very much aware of the fact that on any day tennis is more physically challenging than most of the other sports and the average age of a player is much lower compared to other disciplines. Leander has been playing professional tennis from the past 24 years and with his Grand Slam title win on Sunday (February 1), has won more than 50 (55) doubles career titles, including 15 Grand Slams.
It can be argued that Leander plays an individual sport and is not representing his country most of the time, but people who knows tennis will know his performance in Davis Cup where he does represent his country and of course not to mention the Olympics, where only seven Indians have so far been able to win individual medals for the country so far.
Leander, who started his Davis Cup career when he was 16 years old in the year 1990, has never looked back and has played a pivotal role in India's Davis Cup campaign from the past so many years.
With all the senior players in India coming to their carrier end and on some occasion are forced to declare their end, Leander is growing in his stature everyday and has made his name in one of the most sought after sport worldwide.
India is a country obsessed with cricket and cricket has given us many legends, but Leander Paes has been accepted as a legend throughout this planet and in the countries where no one understands cricket. Maybe if he was born in any other country there would have been more talks about this legend, who is a tale of grime, guts and glory.
Players like him come once in many generations and his instinctive ability to grasp, adjust and deliver is what makes him such a sportsmen. The nation salutes the maestro who has come to symbolise the hopes and aspiration of a nation craving for recognition in sports.
By Indian Sports News