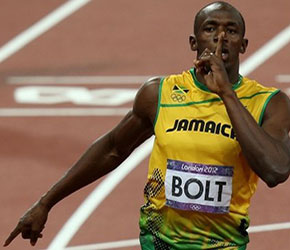 With London Olympics 2012 having come into action on Friday night, the stage is all set for 10,000 athletes taking part in the competition. It for sure would be one cracker of an event as top athletes would make a beeline to eye glory at the grandest stage of them all.
Here are few athletes to watch out for when the Games gains momentum and in all likelihood would emerge on the top at the mega event.
Usain Bolt (Athletics): He has been undoubtedly one of the best names in the athletics today and had a phenomenal run in the Beijing Olympics. The Jamaican sprinter is the fastest man on the Earth and his exceptional speed saw him earn gold medals in 100m, 200m and 4X100m relay along with three world records.
He is one of the most consistent athletes of this era and his five golds in two World Championships is a proof enough to that. His knack at performing at the right time is what makes him so dangerous and he definitely would be a force to reckon to in this year's Olympics.
Michael Phelps (Swimming): He has been one of the reasons why the Beijing Olympics would remain as memorable for the global sporting arena. Phelps won an astonishing eight gold medals in Beijing, most by any athletes in a single Olympics bettering the record set by Mark Spitz of America in 1972 Munich Olympics.
With 14 gold medals, Phelps owns the record for all time Olympic golds and he would definitely look to improve and just three medals in this Olympic would allow him to set a new record and surpass Soviet gymnast Larisa Latynina's overall record of 18 medals.
He said that this is going to be his last Olympics, so expect him to come hard at his competitors as he would be looking forward to enter the record books and sign off on a high note.
Federica Pellegrini (Swimming): The Italian swimmer has a deep connection with swimming considering the fact that she was born in the watery city of Venice. She is Italy's most successful swimmer and in Beijing she became the first Italian female swimmer to win an Olympic gold. She won the 200m freestyle in 2008 Olympics and currently holds the world record in the 200m (long and short course) and 400m (long course) freestyle.
At the 2009 World Championships in Rome, ended with a timing of 3:59.15, hence becoming the first women to have ever breached the four minutes mark in 400m freestyle.
Katie Taylor (Boxing): With women's boxing making its debut at the Olympics, stage cannot get more fitting than this for the Irish pugilist Katie Taylor. Taylor who has won three World Championships and five European Championships would be keen on making her mark at the Olympics.
Roger Federer (Tennis): Roger Federer of Switzerland, world number 1 enters the Olympics as the top seeded player in the tournament. Roger who has won 17 Grand slam titles but an Olympic medal has eluded him. Olympics would be played on grass and that is the surface that he has made his over the years. He has won his seventh Wimbledon title last month and would come back at the hallowed All England Club. He would face stern challenge from the illustrious playing field including World number 2 Novak Djokovic of Serbia.
By Samikshan Dutta Choudhary
Indian Sports News Network