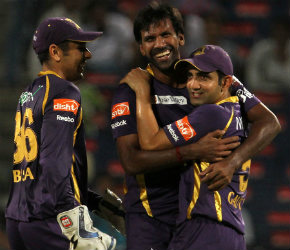 One of the most striking aspects of Indian Premier League (IPL) since its inception from 2008 is its uniting ability. Till date we have witnessed players in their national uniform on the 22 yards. We have seen the rising rivalry between players from different country. We have seen our National Flag rising higher and higher in the field. But IPL has initiated a different platform of amity. Here we find people from all over the globe joining hands of friendship and entertaining the world with its splendid acts of cricket.
The great thing IPL has done to cricket is that it has facilitated the forging of some unlikely friendships. Isn't it mesmerising to see Virat Kohli smiling and celebrating with AB de Villiers, considering the fact that both of them appear as rivals and big hitters when a match between India and South Africa is contested? IPL has broken all barriers and has successfully created a new environment on the premises of cricket.
What when you see that that two skippers of two different nations are wearing the same jersey and exchanging winning tactics in the field? Yes, that is the case for Rising Pune Supergiants where MS Dhoni and Steve Smith share the same dressing room.
All the teams contesting in the IPL has minimum five to six overseas players who join hands with the national players to show their batting and bowling skill. Even it appears quite ridiculous when we find that members of the same nations are appearing in different jerseys. Such is the case for James Faulkner and Glenn Maxwell. Both the players together hit boundaries for Australia. But here the former has been grabbed by Gujarat Lions and the latter plays for Kings XI Punjab.
It really becomes interesting to note how world class players combat such scenarios. The cricket lovers do enjoy some ecstatic moments from such scenarios.