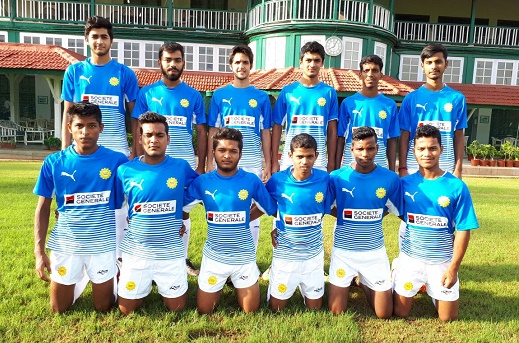 New Delhi: The India U-17 Rugby team will compete at the Asia Rugby U17 Rugby Sevens Championship to be held at the Tainan Municipal Rugby Stadium, Tainan, Taiwan on 9th & 10th September, 2017. The team is supported by Societe Generale, the financial partner of Rugby India and is participating under the aegis of the Indian Rugby Football Union (IRFU), the governing body for the sport of Rugby in India.
This tournament will serve as the Qualifiers for the 2018 Youth Olympic Games to be held in Argentina.
A total of ten countries from across Asia including Hong Kong, Japan, Laos, Malaysia, Phillippines, Thailand, UAE, Uzbekistan , India and hosts Chinese Taipei will vie for top honors at the championships.
Speaking on the occasion Mr. Mahesh Mathai, Secretary General, Rugby India said, "This is the first time an Indian U17 Boys Rugby team is participating in the Qualifiers for the Youth Olympic Games. It is very encouraging to see that the interest for Rugby is growing within India, especially at the age-grade level. Our focus over the last few years on the grassroots development of the sport through the 'Get Into Rugby' programme and age - grade Rugby. We are excited about the progress made and are hopeful that this event will be a positive learning curve for these players who are the future of the sport. Our best wishes are with the boys, hope they do their country proud".
The players shortlisted to join the Indian National Training Camp were selected during the Societe Generale Junior National Rugby Sevens Championship which was held at the Jawaharlal Nehru Stadium in Chennai on 10th & 11th of June 2017.
The following 12 players are selected from across India to represent the nation at the Asia Rugby U17 Sevens Championship in Chinese Taipei.
1) Narasing Marndi (Odisha) – (Captain)
2) Vikas Dhuriya (Maharashtra)
3) Abhishek Yadav (Maharashtra)
4) Pankaj Singh (Maharashtra)
5) Chaitanya Motwane (Maharashtra)
6) Daryush Kapadia (Maharashtra)
7) Siddhant Mehta (Maharashtra)
8) Sagar Biswas (West Bengal)
9) Nikesh Kumar (West Bengal)
10) Pankaj Dagar (Delhi)
11) Raman Kumar (Delhi)
12) Amit Gautam (Delhi)
Coach- Rehamuddin Shaikh
Manager- Minnal Pastala
Physio- Abdul Wahid Khan Pathan