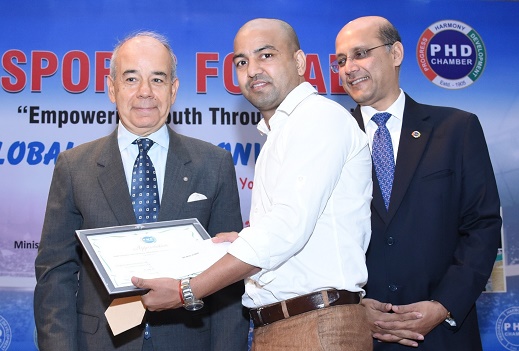 Upgradation in sports governance coupled with immediate introduction of sports science including aggressive advancement of sports authorities at primary level schools to spot and catch sporting sparks are the only way forward through which promotion of sports with animal spirits can be undertaken to make India excel in all sorts of sporting activities, according to Member, Olympic Task Force, Om Pathak.
The aforesaid recommendations have been made by the Olympic Task Force, set up under the direction of the Prime Minister of India for transformation of sports spirit and submitted to the government on Friday (11.08.2017), however, also focus on inculcation of physical wellness, ethical and moral values among the budding sports person so that these evolve into world class personalities in the arena of sports, emphasised Pathak.
Speaking at 5th Global Sports Convention – 2017 under aegis of PHD Chamber of Commerce and Industry here on Saturday, Pathak who is also a Chairman of School Sports Promotion Foundation said that the Olympic Task Force gave away its suggestions to the government on Friday, recommending that improvement, upgradation and advancement in sports governance is the call that ought to be addressed with priority by the government.
Currently, sports governance, hinted Pathak is at stake as relationship and coordination of various sports federations with all their concerned stakeholders need much more advancement for timely disbursement and dispensation of sports grants to nurture the sport talent. With this in place, the sports would begin to transform and bring in the required glory to the country, he felt.
Secondly, sports science is currently missing in sports syllabi as a result the best of sports person in India is not uplifted beyond a certain threshold and therefore, the earlier the sports science is introduced to sports, the better would it be for ultimate evolution of all sports in the country, stressed Pathak.
Similarly, sports authorities are required to aggressively walk to countryside and make all out attempts to spot the sport's spark in various primary schools and begin to nurture them with their potential which is so vast and of multiple volume, he further pitched.
The Convention which was presided over by the Ambassador, Embassy of Greece, Panos Kalogeropoulos along with President and Vice President, PHD Chamber, Gopal Jiwarajka and Rajeev Talwar and Chamber's Secretry General, Saurabh Sanyal gave away Certificates, Trophies and Gifts Mementos to the various sports person for their achievement in various fields, however, added that one way to promote sports is to recognised the contribution of all sports persons in one way or the other.
For the first time ever the PHD Chamber Sports For All convention has witnessed participation from eminent sportsperson representing India at Olympics, Paralympics, Deaflympics and Special Olympics.
Among others who also participated in the Convention comprised Manavjit Singh Sandhu, Rajiv Gandhi Khel Ratna Awardee & Former World No.1 in Trap Shooting; Akhil Kumar, Arjuna Awardee & a Boxer of International Repute represented India in Olympics and a National Observer for Boxing; Raspreet Sidhu, Indian Women national team Member ; Sushma Devi, International Cricketer, Indian Women Cricket Team; Amit Dahiya an Indian Wrestler represented India at Olympics; Bajrang Lal a Padam Shree and Arjuna Awardee represented India in Rowing at various International Tournaments; Managing Director, Sportseed, Sudhanshu Fadnis; Vice President, Police Family Welfare Society (PFWS), Dr. Suchi Singh.