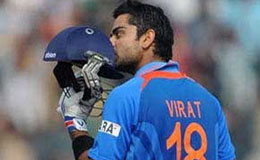 In the MRF Tyres ICC T20I Player Rankings, a number of India's rising stars have made impressive gains in the latest rankings.
In the MRF Tyres ICC Rankings for T20I Bowlers, Jasprit Bumrah has achieved a career-best rankings. The right-arm 22-year-old from Ahmedabad has vaulted six places to second position after claiming five wickets in the series.

This rise means Bumrah has become India's highest ranked bowler in the shortest format of the game after Ravichandran Ashwin has slipped four places to seventh following his decision to miss the series.

Bumrah now has number-one ranked Samuel Badree firmly within his sights. The West Indies wrist spinner leads Bumrah by 46 points.

Bumrah's team-mate Barinder Sran, who finished the series as the most successful bowler with six wickets, has broken into the rankings in 225th position.

For Zimbabwe, Neville Madzira and Taurai Muzarabani have gained significantly to reach 126th and 148th positions, respectively.

In the MRF Tyres ICC Rankings for T20I Batsmen, Kedar Jadhav has made a huge jump of 181 places to 106th after he finished as the third leading run-getter with 77 runs that included a match-winning 42-ball 58 that helped India to set-up a winning score.
Mandeep Singh and Lokesh Rahul have returned to the rankings in 100th and 102nd positions respectively, while other notable movers are Manish Pandey in 152nd (up by 119 places) and Ambati Rayudu 217th (up by 133 places).

For Zimbabwe, Elton Chigumbura has gained 11 places to reach 41st place after scoring 78 runs in the series, including a match-winning 54 in the opening game, while Peter Moor has gained 52 places to reach 110th.

India's Virat Kohli is the number-one ranked T20I batsman. He is followed by Aaron Finch of Australia and Martin Guptill of New Zealand.
MRF Tyres ICC T20I Player Rankings (as of 23 June, after the Zimbabwe v India series)
Batsmen (top 20)
Rank (+/-) Player Team Pts Avge SR HS Rating
1 ( - ) Virat Kohli Ind 837 58.60 135 897 v Eng at Edgbaston 2014
2 ( - ) Aaron Finch Aus 803 38.96 150 892 v Ban at Mirpur 2014
3 ( - ) Martin Guptill NZ 754 34.73 131 793 v SA at Hamilton 2012
4 ( - ) Joe Root Eng 750*! 39.60 139 750 v WI at Kolkata 2016
5 ( - ) Faf du Plessis SA 741 37.68 133 843 v Ban at Mirpur 2015
6 ( - ) Kane Williamson NZ 719 34.53 124 737 v Pak at Hamilton 2016
7 ( - ) Alex Hales Eng 713 31.28 134 866 v Ind at Edgbaston 2014
8 ( - ) Chris Gayle WI 696 35.32 145 831 v Aus at Colombo (RPS) 2012
9 (+1) M. Shahzad Afg 674 29.71 136 690 v SA at Mumbai 2016
10 (+1) Shane Watson Aus 664 29.24 145 832 v SA at Colombo (RPS) 2012
11 (-2) H. Masakadza Zim 657 29.43 120 699 v Ban at Khulna 2016
12 ( - ) Hashim Amla SA 646 31.50 129 657 v Eng at Mumbai 2016
13 ( - ) David Warner Aus 639 28.15 140 826 v WI at St Lucia 2010
14 ( - ) T. Dilshan SL 638 28.98 121 802 v NZ at Colombo (RPS) 2009
15 ( - ) Sabbir Rahman Ban 632 30.20 120 644 v Ind at Bengaluru 2016
16 (+1) Eoin Morgan Eng 620 28.55 132 872 v Ind at Old Trafford 2011
17= (+1) Marlon Samuels WI 619 29.81 121 723 v Ban at Mirpur 2012
(+1) Quinton de Kock SA 619 29.68 128 631 v WI at Nagpur 2016
19 (+1) JP Duminy SA 612 38.46 124 713 v NZ at Chittagong 2014
20 (+1) Glenn Maxwell Aus 611! 22.62 154 611 v Ind at Mohali 2016
Bowlers (top 20)
Rank (+/-) Player Team Points Avge Eco. Highest Rating
1 ( - ) Samuel Badree WI 790 14.70 5.39 855 v Pak at Mirpur 2014
2 (+6) Jasprit Bumrah Ind 744 18.91 6.34 751 v Zim at Harare 2016
3 (-1) Imran Tahir SA 740! 15.37 6.48 740 v SL at Delhi 2016
4 ( - ) Sunil Narine WI 685 17.75 5.69 817 v Pak at St. Vincent 2013
5 ( - ) Shahid Afridi Pak 674 24.35 6.61 814 v SL at Colombo (RPS) 2009
6 ( - ) Kyle Abbott SA 671! 22.26 7.96 671 v SL at Delhi 2016
7 (-4) R. Ashwin Ind 670 22.14 6.91 765 v SL at Visakhapatnam 2016
8 (-1) Adam Milne NZ 655* 21.80 7.36 661 v Pak at Mohali 2016
9 ( - ) James Faulkner Aus 641! 20.29 8.19 641 v Ind at Mohali 2016
10 ( - ) Mohammad Nabi Afg 638! 23.95 6.90 638 v WI at Nagpur 2016
11 (+1) M. McClenaghan NZ 634 25.26 7.70 649 v Aus at Dharamsala 2016
12 (+2) Rashid Khan Afg 633*! 19.78 6.83 633 v WI at Nagpur 2016
13 (+2) David Wiese SA 632* 20.70 7.60 646 v WI at Nagpur 2016
14 (+2) Shakib Al Hasan Ban 631 20.32 6.74 672 v Pak at Mirpur 2014
15 (+3) Al-Amin Hossain Ban 612 15.17 7.46 633 v OMA at Dharamsala 2016
16 (+3) Hamza Hotak Afg 604*! 23.26 7.01 604 v WI at Nagpur 2016
17 ( - ) Graeme Cremer Zim 602 18.84 6.98 669 v Ban at Khulna 2016
18 (+2) M. Rahman Ban 600*! 13.95 5.98 600 v NZ at Kolkata 2016
19 (-8) Ravindra Jadeja Ind 599 30.75 7.04 651 v Pak at Mirpur 2016
20 (-8) Ashish Nehra Ind 597 20.83 7.69 634 v WI at Mumbai 2016
All-rounders (top five)
Rank (+/-) Player Team Points Highest Rating
1 ( - ) Shane Watson Aus 373 557 v SA at Colombo (RPS) 2012
2 ( - ) Shakib Al Hasan Ban 346 408 v Pak at Mirpur 2015
3 ( - ) Shahid Afridi Pak 332 413 v NZ at Dubai 2009
4 ( - ) Glenn Maxwell Aus 329! 329 v Ind at Mohali 2016
5 ( - ) Marlon Samuels WI 288 321 v SL at Mirpur 2014