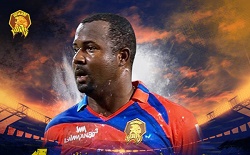 Kanpur: In a crucial clash at the Green Park in Kanpur, Gujarat Lions cruised to a comfortable six-wicket win over Kolkata Knight Riders on Thursday. A brilliant spell from Dwayne Smith, where he picked up four wickets, restricted KKR to a paltry total of 124, which was easily chased down by Raina and Co.
Heading into the match, Kolkata Knight Riders and Gujarat Lions were two of the four teams tied at 14 points. A win for Kolkata would have guaranteed them, and Sunrisers Hyderabad, a place in the next round. However, as soon as Suresh Raina won the toss, their chances of doing so took a heavy blow.
Gujarat decided to bowl first and Raina announced three changes to their lineup. The skipper returned to the team after missing the first IPL game of his career, and he was joined by Shadab Jakati and Eklavya Dwivedi, who was making his IPL debut in front of his home crowd in Uttar Pradesh.
Kolkata were forced to make one change to their team as Jason Holder replaced the injured Andre Russell.
1. Dwayne reigns on green Green Park
If ever there was a pitch which lived up to the stadium's name, it was tonight at the Green Park. One would be hard pressed to find an IPL pitch which had more grass on it this season and Dwayne Smith made merry on it.
The 33-year-old is not known for his skills with the ball, and the dibbly-dobbly seam-up bowler—he had picked up seven wickets in 33 T20Is for West Indies—picked up four wickets at the top of the KKR innings. Smith extracted swing and seam movement with the new ball, and credit must go to Raina for trusting him within the powerplay overs.
Staggeringly, Smith did not concede a single boundary in his four overs—conceding just eight runs in his spell. By the time the West Indian was done with his spell, KKR were tottering at 61/5 in 12 overs with Yusuf Pathan and Suryakumar Yadav at the crease.
2. Yusuf fails to pull off another recovery act
When these two teams faced each other at the Eden Gardens earlier in the tournament, Kolkata were struggling at 24/4 before Yusuf Pathan and Shakib Al Hasan produced a partnership of 134 runs to get them to a respectable total.
For a moment it seemed like Yusuf Pathan, who scored 36 runs from 36 balls, would be able to do so once again alongside the likes of Suryakumar Yadav and Jason Holder. However, the 33-year-old was dismissed just when he was warming up for the big shots, and KKR scored just eight runs in their last two overs to post a total of 124.
3. Raina's timely return to form
Suresh Raina was surpassed by Virat Kohli as the highest run-scorer in IPL history earlier this week, and Raina—an IPL specialist—took notice. The southpaw came to life in the low run-chase and took charge of the situation in the powerplay, he kept the runs coming without throwing away his wicket, unlike his batting partners. On a pitch that was flat-out green, batting at a strike-rate close to 150 is commendable and how Gujarat had missed his form. He saw his team over the finishing line with an innings of 56 and they will need him to shine again, if they are to guarantee a place in the playoffs with a win against Mumbai Indians.
Also, Raina's captaincy has gone unnoticed, but he was aware enough to hand the ball to Dwayne Smith, who repaid his captain's faith. Maybe with Raina in charge against RCB, Gujarat could have stopped the Kohli-ABD show? Maybe.
Brief Scores:Kolkata Knight Riders 124/8 in 20 overs (Yusuf Pathan 36(36), Robin Uthappa 25(19); Dwayne Smith 4/8) lost to Gujarat Lions 125/4 in 13.3 overs (Suresh Raina 53(36), Aaron Finch 26(23); Sunil Narine 1/30).