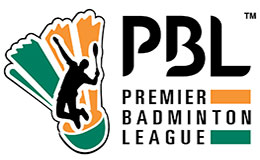 New Delhi: The Premier Badminton League today proudly announced Star Sports as their official broadcast host for the upcoming season, which will kick-start on 2nd January 2016. With a history of successfully hosting many International games and Leagues, the channel is all set to continue their quest towards giving Indian sports lovers an experience world class LIVE tournament at their homes.
Speaking on the partnership, Star Sports spokesperson said, "Star Sports will air all the action from the Premier Badminton League, with the world's top shuttlers set to square off in the country's largest badminton tournament. The prospect of the best of the badminton world playing for various teams in the Premier Badminton League is tremendously exciting. We at Star Sports are committed to fostering a multi-sport culture in India and are delighted to be bringing all the action, from every serve to every smash, live to the millions of sports fans across the country. "

Speaking on this occasion, Dr Akhilesh Das Gupta, Badminton Association of India President & PBL Chairman stated, "We are proud that we have a partner like Star Sports who are committed to host the Premier Badminton League. With this partnership, the viewers will get high-quality LIVE matches with new-age technologies. We are confident that the Premier Badminton League through Star Sports will be popular and will attract new viewers."

The Premier Badminton League will have total 18 matches, which include 15 ties with five matches each followed by two Semi-Finals and one Final match, and all will be telecasted LIVE by Star Sports over 16 days. The PBL 2016 will feature six franchises and each franchise will host a two-day leg. The matches will be held during evening for the prime time television broadcast.

The top four franchises in the League will enter in the Semi-finals and the winners of the Semi-finals will meet at the Grand Final on 17th January 2016, which will be held in New Delhi.