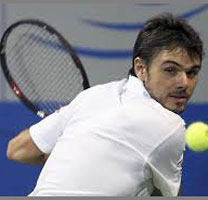 Chennai: Current World No. 4, Switzerland's Stan Wawrinka confirmed his participation in the 20th edition of the Aircel Chennai Open, India and South Asia's Premier ATP World Tour tennis event, scheduled to be held at Chennai's SDAT Stadium from 5th to 11th January 2015.

The man known for his big serves, exceptional state of fitness and single-handed backhands that are perhaps the best in the game, is someone who has wowed India's tennis fans numerous times in the recent past. In scintillating form, last year, he won the tournament's singles title for the second time. The previous season, the Olympic doubles gold medalist wowed onlookers when he partnered Frenchman Benoit Paire to lift the tournament's doubles title in a thrilling match.
As the tournament prepares to celebrate its 20th year, there are few things that can better confirmation from a player who will be visiting Chennai to participate in the tournament for the seventh straight year. This also goes to show the importance some of the world's finest tennis players give the Aircel Chennai Open, an event that has proudly been India's only ATP World Tour stop for two decades.
The 29-year-old has had an incredible 2014 that started with his final match victory over Edouard Roger Vasselin in Chennai, en route to which he recorded his 300th career match win at the Aircel Chennai Open. Stan followed this by capturing his first Grand Slam championship title with a stunning four-set victory over top seed Rafael Nadal in the Australian Open final. It was his first win against Nadal in 13 FedEx ATP Head2Head meetings, also making him the first player since 1993 to eliminate two top seeds, Novak Djokovic and Nadal in a Grand Slam tournament. At the Australian Open, he also defeated three top 10 opponents in the same tournament for first time, reaching a career high of No. 3.

The event, one of three tournaments held in the opening week of the season, continues to give the subcontinent access to one week of scintillating tennis action, featuring some of the best names in the highly competitive world of international tennis.

Commenting on his presence at the event, Stan Wawrinka said, "I congratulate the organizers of the Aircel Chennai Open for entering the tournament's 20th year in India. This will mark my seventh visit to Chennai and I am looking forward to being part of the action and adventure and, of course, all the festivity. I definitely plan to show up ready to play my best with the goal of kicking off the New Year by defending my title in Chennai."

Karti P Chidambaram, Chairman, Tournament Organising Committee, Vice President, AITA and Vice President, TNTA said, "Chennai's tennis fans adore Stan Wawrinka, supporting his every game and rejoicing with every victory he registers. As we celebrate two decades of the tournament in the country, the Tamil Nadu Tennis Association extends a warm welcome to the World No. 4. The current year has been his best until now and we congratulate him on his stupendous performance."

Ashu Jindal, Chief Operating Officer, IMG Reliance, said, "We are thrilled that Wawrinka has confirmed his participation in the 20th edition of the Aircel Chennai Open. He will be playing in the event for the seventh consecutive year and the continued presence of players of his caliber is a testament to the strength of the tournament and to the ongoing support of fans in the city. We welcome him to Chennai and look forward to seeing him spread his magic at SDAT once again."