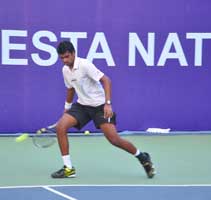 New Delhi: Arjun Kadhe began his quest for a maiden national title in style and shut the door on sixth seed Lakshit Sood to make it to the second round of the Fenesta Open National Tennis Championship on Monday.

Kadhe, who is unseeded in the tournament, broke the Uttar Pradesh lad once in each set to move into the next round of the men's singles with a 6-4, 6-4 verdict.
Top seed Mohit Mayur Jayaprakash also had a smooth sailing into the second round with a straight-set win over Yogesh Phogat. The Tamil Nadu boy knocked out Phogat 6-4, 6-2 at the R.K. Khanna Tennis Complex.

In the first round of other men's singles matches, Delhi boy Saurabh Singh got the better of Arpit Sharma 6-2, 6-3, while Shaikh Abdullah, who was playing his second match of day after his win in the boys' under-18, thrashed Vidit Vaghela 6-4, 6-0.

Rishab Agarwal also made it to the second round with 6-2, 6-1 win over Rubal Shandilya.
The morning and afternoon sessions saw a number of boys and girls putting up tough fights, which resulted in delaying the original schedule.
The day began Abdullah, the top seed in the boys under-18, taking on Sanil Jagtani of West Bengal. The opening set of the match saw Sanil giving a tough fight to Abdullah but the Bengal boy ran out of steam as the match progressed. Abdullah eventually sealed the match with a 7-5, 6-2 verdict in his favour.

Akhil Kanagaraj faced a stiff challenge in his opening round against qualifier Faisal Kamal of Rajasthan. Both the boys fought tooth and nail but it was the experience of Akhil that allowed him to prevail over Faisal.

Akhil broke Faisal twice in the first set to win 6-2 but the Rajasthan boy came back strongly and took the second set into the tie-breaker, which he won to force the match into the decider. Faisal, however, could not carry the momentum into the third set and had to surrender, losing the issue 2-6, 7-6, 2-6.

In the girls under-18, Mansi Siddare Reddy opened her account at the expense of M Arthi 6-3, 6-1, while Bani Singh handed a straight-set defeat to Kanishka C Chawla 6-1, 6-0.