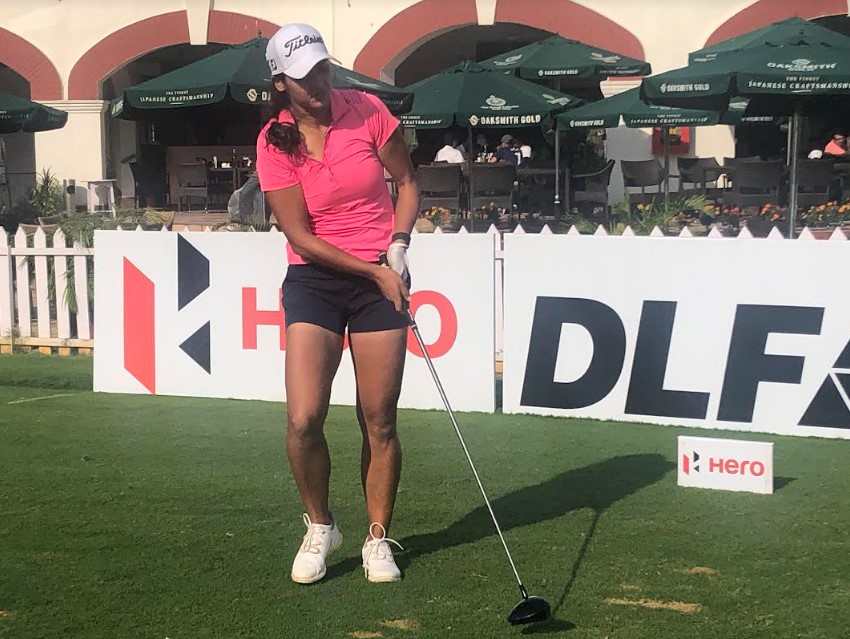 Kolkata: Neha Tripathi overcame an early double bogey to bring home a respectable 1-over 73 and extended her lead from two to four shots in the 15th Leg of the Hero Women's Pro Golf Tour at the Royal Calcutta Golf Club. Neha (72-73), twice winner this season, is looking for more as she chases the Hero Order of Merit honours. She is now 1-over 145 with one more round to go.
Neha is four shots clear of Ridhima Dilawari, who is still without a win this season. Ridhima had the best round of the day as none of the players have been able to break par on the iconic but challenging RCGC.
Tvesa Malik (74-77) slipped to third place after a horrific start with three bogeys in the first three holes and at 151 she is six shots behind Neha and two behind Ridhima. Tvesa and Ridhima are also due to play in the Final Stage of the LET Q-School in Al Maadan Golf Marrakech & Royal Golf de Marrakech next month.
Shweta Mansingh with five birdies had one of the better rounds of the day at 73 and rose to the fourth place at 8-over 152. Seher Atwal (79-74) and Khushi Khanijau (79-74) were tied fifth.
Neha began the second day with a birdie on the first, but immediately dropped a double bogey on the Par-3 second, which was playing to 150 yards. She got one shot back on Par-4 fifth and gained another shot with a birdie on the 11th. Then the birdies dried up and she also bogeyed the 12th and the 16th.
Ridhima had a birdie and a bogey on each side of the course, while Tvesa Malik started with three bogeys and another one on the sixth hole meant she was 4-over after six holes. Over the next 12 holes she had one more bogey but there was no birdie for her in the second round.
Amateur Anaahat Bindra (75-80) was seventh while four players were tied for eighth at 12-over 156 and they included Yaalisai Verma (82-74), Sneha Singh (79-77), Kriti Chowhan (77-79) and Anisha Agarwalla (76-80).
The cut fell at 163 at 20 players made the final round.
Tee times for the third and final round of the 15th Leg of the Hero Women's Pro Golf Tour at the Royal Calcutta Golf Club:
1. 8:00 am: Snigdha Goswami 163, Ravjot K Dosanjh 163;
2. 8:10 am: Sinjini Mukherjee (A) 161, Rhea Jha 160, Gauri Karhade 160;
3. 8:20 am: Agrima Manral 159, Jyotsana Singh 158, Jasmine Shekar 157;
4. 8:30 am: Ananya Datar 157, Anisha Agarwalla 156, Kriti Chowhan 156;
5. 8:45 am: Sneha Singh 156, Yaalisai Verma 156, Anaahat Bindra (A) 155;
6. 8:55 am: Khushi Khanijau 153, Seher Atwal 153, Shweta Mansingh 152;
7. 9:05 am: Tvesa Malik 151, Ridhima Dilawari 149, Neha Tripathi 145;