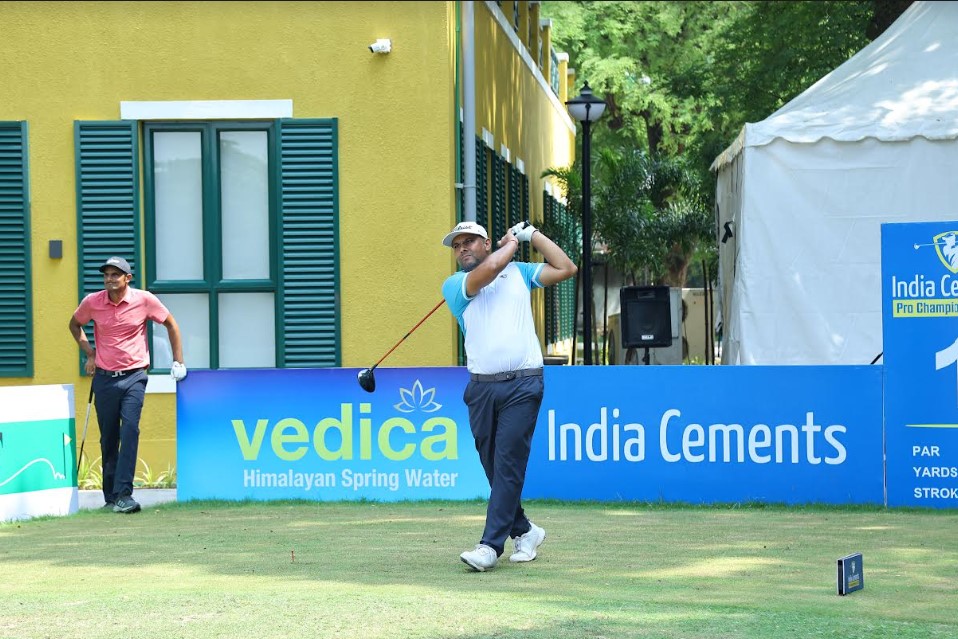 Chennai: The second half of the TATA Steel PGTI's 2023 season got off to a cracking start with the first round of the inaugural India Cements Pro Championship. The professionals coming back fresh from the mid-season break delivered 45 under-par scores with the seasoned Gaurav Pratap Singh of Noida and Gurugram youngster Sunhit Bishnoi taking the joint lead at six-under 66.
The stiff competition at the Rs. 50 lakh event being played at the TNGF Cosmo Golf Course in Chennai was evident from the tight leaderboard as seven other players were within one shot of the lead in tied third.
Gaurav Pratap Singh, who won a title in the first half of the season after a gap of 14 years, continued his rhythm with a fine effort that featured seven birdies and a bogey. The 39-year-old Gaurav, currently sixth on the TATA Steel PGTI Rankings, produced some good iron shots to pocket couple of birdies on the back-nine. He then enjoyed a purple patch with five straight birdies from the 18th to the fourth where he set up three tap-ins. His only bogey came on the fifth.
"A win is always a huge boost for a golfer or for any other sportsman for that matter. So after the long-awaited win in April, I'm obviously playing with an altogether different mindset now. In the mid-season break, I worked on some aspects of my game and changed a couple of things that have also helped me. I was hitting my irons close today and reaped the rewards for it," said a confident Gaurav.
The 22-year-old Sunhit, who turned professional last year, also garnered seven birdies and a bogey on Wednesday. Bishnoi, a bronze medalist for Haryana at the National Games last year, landed his wedges close and sank three long putts. The highlight of his round was however his tee shot on the par-4 third hole that landed just short of the green and led to a two-putt for birdie.
Sunhit said, "I capitalized on my good wedge shots today. I come into this week with a lot of confidence in my short-game. This being my second season as a professional, I feel a lot more at home in this environment now among the best professionals in the country. The off-season allowed me to focus on my fitness, nutrition and swing changes which could all make a huge difference for me in the coming months."
The seven players bunched in third place at 67 were Pukhraj Singh Gill, Jairaj Singh Sandhu, Ankur Chadha, Arjun Prasad, Bangladesh's Jamal Hossain and the Sri Lankan duo of N Thangaraja and K Prabagaran. Thangaraja had finished runner-up at the PGTI event at TNGF last season.
Pukhraj, armed with a new set, said, "I made most of the par-5s today, making birdies on three out of the four par-5s with terrific drives on two of them. My other birdies came as a result of some great wedge shots. My caddie Sachin, who was on the bag for me for the first time today, made a huge contribution to my round helping me with my course management."
PGTI Order of Merit leader Om Prakash Chouhan shot a 68 to be tied 10th while another top contender Aman Raj returned a 70 to be tied 27th.
Chennai-based amateur Pranav Nandakumar carded a 76 to be the highest-placed among the local players at tied 82nd.