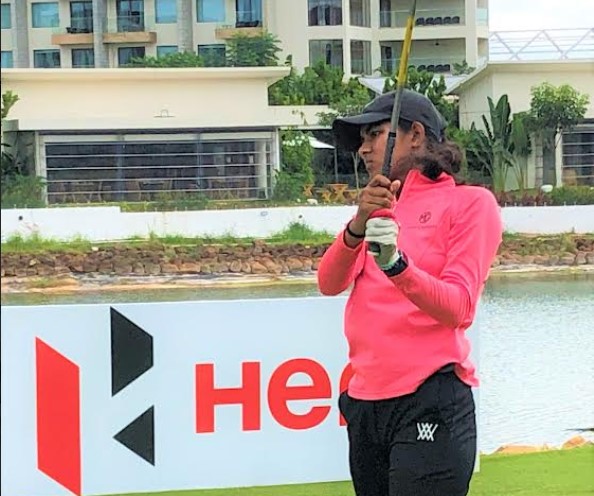 Bengaluru: Vidhatri Urs dropped bogeys on her closing holes, the 17th and the 18th, but still held a one-shot lead over the field that once again saw amateurs taking on the professionals strongly in the 10th leg of the Hero Women's Pro Golf Tour.
While amateurs Vidhatri at even par 144 (71-73) and Prakruthi Satsry at 2-over 146 (73-73) were first and tied third respectively, experienced Neha Tripathi at 1-under 145 (73-72) put herself in position for her first win since the first leg of the 2019 season.
Khushi Khanijau (71-75) after a troubled front nine landed an eagle on Par-4 12 to card 75 with one double and one treble on the front nine. Khushi was tied third with Neha.
Another amateur Saanvi Somu, runner-up in ninth leg, was sole fifth with 73-74 (147). Her round had two birdies and four bogeys.
Four players including Ananya Datar and Kriti Chowhan shared the sixth place with two more amateurs Mannat Brar and Keerthana Rajeev Nair, who was second in the eighth leg. There were five amateurs in the Top-nine.
Vidhatri, who won by 13 shots in the ninth leg last month, birdied fourth, 12th and 16th and dropped shots on seventh and 13th. She was 2-under for the week after 16 holes and seemed set for a good lead. Then came the bogey-bogey finish, which allowed Neha Tripathi a shot at the title.
Neha had just one bogey on fourth and one birdies on the Par-4 ninth and parred the entire back nine for 72 and at 1-over for 36 holes was one behind Vidhatri.
Prakruthi had four birdies and five bogeys, three of which came in a row from fourth to sixth.
Khushi doubled bogeyed fourth and tripled the sixth but a birdie on eighth and an eagle in 12th kept her afloat despite another bogey on 14th.
Three players, Asmitha Sathish, Hitaashee Bakshi and Sneha Singh were tied tenth at 5-over 149.
The cut fell at 15-over with 26 players ensuring play in the final round.
Tee times for the third and final round of the 10th Leg of the Hero Women's Pro Golf Tour at Prestige Golfshire, Bengaluru:
1. 11:15 am: Ravjot K Dosanjh 159, Durga Nittur 159,
2. 11:25 am: Saaniya Sharma 158, Rhea Jha 157, Jasmine Shekar 156;
3 11:35 am: Snigdha Goswami 156. Gauri Karhade 155, Rishika Muralidhar 155;
4. 11:45 am: Shweta Mansingh 155, Riya Yadav 155, Sachika Singh 155;
5. 11:55 am: Agrima Manral 153, Tvesa Malik 151, Karishma Govind 151;
6. 12:10 pm: Sneha Singh 149, Hitaashee Bakshi 149, Asmitha Sathish 149;
7. 12:20 pm: Keerthana Rajeev (A) 148, Mannat Brar (A) 148, Kriti Chowhan 148;
8. 12:30 pm: Ananya Datar 148, Saanvi Somu (A) 147, Khushi Khanijau 146;
9. 12:40 pm: Prakruthi Sastry (A), 146 Neha Tripathi 145, Vidhatri Urs (A) 144