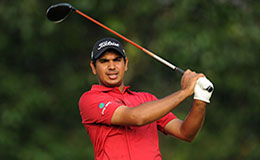 Gurugram: The last four Panasonic Open India winners, including defending champion Khalin Joshi, are among the five previous champions in the field of 126 players at the Panasonic Open India this week.
The tournament, which ventures out of the Delhi Golf Club for the first time carries a purse of US$400,000 and provides a great platform for home stars to make a breakthrough at the Asian Tour level. Six of the eight past champions had Panasonic Open India as their maiden wins, the only exception being SSP Chawrasia in 2014 and Shiv Kapur in 2017.
The six players who made Panasonic their first wins include Anirban Lahiri (2011); Digvijay Singh (2012); Wade Ormsby (2013), also the only non-Indian to have won the event; Chiragh Kumar (2015); Mukesh Kumar (2016) and Khalin Joshi (2018).
Interestingly no player has won the Panasonic Open more than once, so as many as five players in this field will be looking at becoming the first repeat winner.
One of the highlights of the event will be the coming together of the 'Big Three' of Indian golf – Jeev Milkha Singh, Arjun Atwal and Jyoti Randhawa, who between the three of them have done great service to the sport in the country and the region. Randhawa, incidentally, will play his 300th Asian Tour event this week.
Another one looking for a landmark is Gaganjeet Bhullar, already the highest winner of Asian Tour titles at nine. He will attempt to become the first Indian to get into double digits. When asked about him still looking for his first win at home, he remarked with a smile, "Thanks for reminding me of that. I've never won so far in India and last year was really good when I got my first European Tour win in Fiji."
On his showing this year, he added, "This year I started off really well but the second half on the European Tour was not as good as I was expecting. But right now I'm feeling good, the body is feeling good and I'm hitting the ball well. I'm playing on this golf course (Classic) after a gap of ten years. Last time I played here, I shot 22-under and I lost the tournament by ten shots! It is a great golf course and I'm feeling confident to play well this week."
Joshi said, "I haven't had the best of the year so far. But finally, I'm finding some form in my game. So, I am hoping good memories of last year and the returning form will do the trick this week. The win last year at the Panasonic Open obviously helped me. I went to every event this year but haven't really capitalised on all the opportunities, but looking forward to starting it from this week. The game is feeling good so looking forward to having a good week and finishing the year on a high."
On an even more positive note, he revealed, "I have played well on this golf course throughout my career - be it junior, amateur or professional, so I have good memories of this course. I really like the track so I'm looking forward to gaining some confidence. Overall this course really suits my game."
Shiv Kapur, who won three events in 2017, Panasonic Open India being one of them, returned to form last week in Thailand, where he lost in a play-off. He said, "I've had a lacklustre season thus far. Last week, was at a golf course where I've had success in the past. Hopefully, I can carry that confidence that I gained last week into this week. It was obviously disappointing not to win, but standing on the 14th tee in the final round, I was five or six shots back. So, didn't really think I had a shot. So to even get into the playoff was a bonus."
Viraj Madappa, who broke through last year on Asian Tour and Ajeetesh Sandhu, who won in Taiwan in 2017 and has had a decent season, will also be among the players looking to add to their successes.
Youngsters like S Chikkarangappa, Aadil Bedi, Kshitij Naveed Kaul, Priyansh Singh and Abhijit Chadha among others are all searching for their maiden win on Asian Tour and this could be their week.
Bangladeshi Siddikur Rahman, who has finished runner-up on three occasions at the Panasonic Open India, remains ever hopeful of making it count at the Classic Golf and Country Club this week.
His last Asian Tour win came in India at the Hero Indian Open in 2013, though he won an Asian Development Tour event in Dhaka last year.
Argentina's Miguel Carballo will be seeking his second win of the season following his breakthrough in Indonesia in September. The Argentinian believes his growing confidence has given him the belief that he can tackle the challenging demands of the new host venue of the Panasonic Open India.
Bhullar leads Pro-Am team to victory
Gaganjeet Bhullar earned himself a morale booster as he led his Pro-Am team to a win in the Wednesday Pro-Am at the 2019 Panasonic Open India. Bhullar, who has nine Asian Tour wins, had Tanishya Kalyan, KK Sindhu and Kulwinder Singh as his teammates.
The team led by Indonesian pro Rory Hie, including amateurs Astha Mittal, Harvinder Singh and Ashish Kaul was second, while pro Viraj Madappa with amateurs Cdr Shibu, Kaira Nair and Shubodip Pal was third.
Sid Sangwan was the winner of the Men's Long drive competititon, while Sneha Saran was the topper among women. Sneha was also closest to the Pin.
Rashid Khan off to a good start in Pro-Am
Rashid Khan, who finished runner-up in his last professional outing at this course, gave himself a good start to the week as he piloted his Pro-Am team to a good win in the Tuesday Pro-Am. His teammates were Sujit Nagrath, Mitusharu Takahashi and Som Kapur.
Pro Jason Norris with amateurs, Vishal Bakshi, Biswajit Pandey and Kunal Jaidka were second, while Kosuke Hammamoto with Suryaveer Singh, Aryamann Mahant and Bikram Singh were third.
Ratinder Jung won the long drive for men, while Vineet Sharma was closest to the Pin.
Travis wins Long Drive competition
Travis Smyth, who came to the Asian Tour through the Qualifying School last year, won the inaugural 'Long Drive' competition at the 2019 Panasonic Open India. Smyth has had five Top-25 finishes, including T-21 the Classic Golf and Country Club in September this year. He smashed his drive to 326 yards.
Viraj Madappa was second with a best of 320 yards, while Abhishek Jha had a best drive of 316 yards. The winners received prizes from Panasonic India.