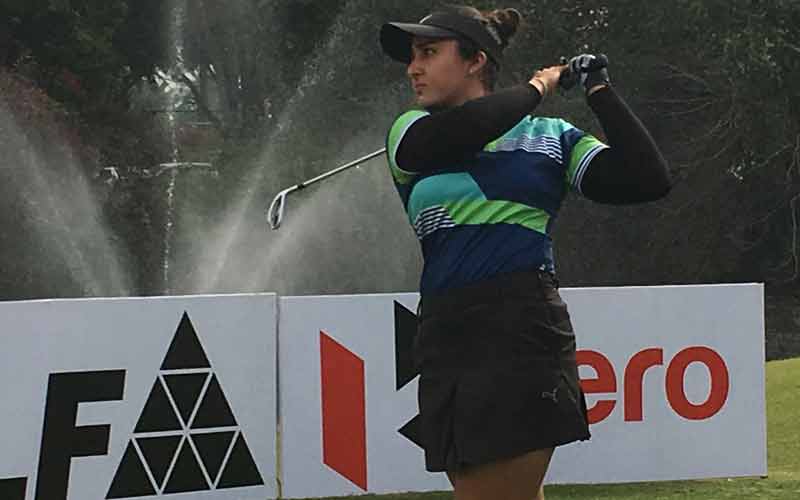 NOIDA: Ridhima Dilawari could afford to finish with a pair of bogeys right at the end and still win by six shots as she carded one-over 73 in the final round of the 14thLeg of the Hero Women's Pro Golf Tour at the Noida Golf Course on Friday. Ridhima, who led by six shots at the end of the second round, extended that to nine shots at one stage. Tvesa, playing a group ahead, birdied the last, while Ridhima bogeyed 17thand 18th, but the difference was still a massive six strokes.
Ridhima totalled three-under 213 and bagged her fourth win of the season. She is now the top winner this season, while Tvesa has three wins.
Tvesa Malik (70) was the only player to shoot under par in the final round and tied with Amandeep Drall (73) for second place at 219. Diksha Dagar, who shot 78 on second day, carded 73 on the final day to finish fourth at 220 and Gaurika Bishnoi ended a none-too-happy week with a 75 and was fifth at 223.
Astha Madan (73) and Saaniya Sharma (76) were sixth and seventh respectively, while Ananya Datar (75) and Smriti Mehra (81) were Tied-eighth at 234.
Ishvari Prasanna (78) and Siddhi Kapoor (79) were Tied-tenth at 235.
Starting with a huge lead, Ridhima was very steady through the front nine with eight pars followed by a birdie on ninth. A birdie on 11thmeant she was two-under for the day. Her first bogey of the day came on 12th, which was followed by four pars and finally two bogeys.
Tvesa, nine behind at the start, bogeyed third and seventh before back-to-back birdies ensured she was even for the front nine. A birdie on 13thand another on 18thmeant she finished at 2 under 70. Amandeep bogeyed the Par-3 16thand Par-4 18thand fell into a tie for second.
Diksha parred the first 12 holes before dropping shots on 13thand 15thand her solitary birdie of the day came on the Par-3 16th.
Gaurika Bishnoi stayed on top of the Hero Order of Merit, while Amandeep Drall and Ridhima moved up one place each to become second and third. Neha Tripathi, second at the start of the week, slipped to fourth after finishing 15th.