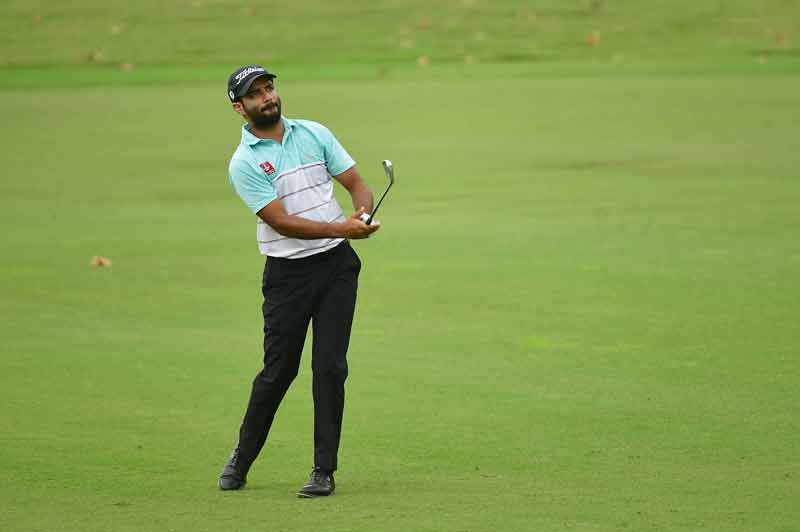 Jaipur: Abhinav Lohan went on a birdie-spree in round one of the TATA Steel PGTI's Jaipur Open 2019 at the Rambagh Golf Club as he put up a sensational score of nine-under-61 to take the lead. The Faridabad-based Lohan, who plays at the DLF Golf & Country Club in Gurugram, finished his round with an astounding seven consecutive birdies.
Gurugram-based Shivendra Singh Sisodia and Bengaluru's M Dharma also came up with captivating rounds of eight-under-62 to end the first day in tied second place.
The 29-year-old Abhinav Lohan, a member of the Indian team that won the silver medal at the 2010 Asian Games, capitalized on the momentum from his last outing at the Asian Tour event played at the Classic Golf & Country Club where he had finished tied 21st with a total of 10-under.
Abhinav's hot putter earned him the bulk of his birdies as he shot his career-best score. Lohan began the day from the 10th with an erratic shot that found the trees. However, a great second shot set up a 10-foot birdie conversion for him. Abhinav dropped his only shot of the day on the 11th before picking up strokes on the 15th and 18th to make the turn at two-under.
Lohan's 15-feet birdie conversion on the third hole set the tempo for the rest of his round. He then went on to sink putts from a range of 10 to 30 feet on the fourth, fifth, sixth, seventh and ninth and made an up and down on the eighth to sign off the day with birdies on his last seven holes, a rare feat.
Abhinav said, "I'm delighted since it's the best round of my professional career. It was my putting that stood out as I converted many long putts and just missed a couple of putts today.
"I didn't have the best of starts when I found the trees with my first tee shot. But I managed to extract an unexpected birdie there. That definitely helped my cause. I then didn't put a foot wrong on the front-nine.
"I feel my tied 21st finish at Classic couple of weeks back did a lot of good to me. I was consistent that week and shot four sub-par rounds which really lifted my confidence and got me ready for the second half of the PGTI season."
Shivendra Singh Sisodia fired six successive birdies from the 18th to the fifth during his round of 62 while Dharma shot the same number without dropping a bogey.
The Chandigarh pair of Karandeep Kochhar and Akshay Sharma were joint fourth along with Om Prakash Chouhan of Mhow at seven-under-63.
Defending champion Aman Raj of Patna and pre-tournament favourite Rashid Khan of Delhi were both among the bunch of players in tied 15th with scores of 66.
Indian star Jyoti Randhawa delivered a 68 to be tied 38th.
Hemendra Choudhary was the highest-ranked Jaipur-based player in tied 52nd as he fired a 69.